Ford is the only automaker to earn the recognition by Ethisphere Institute's 2015 list of World's Most Ethical Companies
Ford Motor Company has been bestowed with 2015 World's Most Ethical Company by Ethisphere Institute, an American management consulting firm. Ford is the only automobile company to receive this honor for six consecutive years. The 2015 assessment of the list of World's Most Ethical Companies included 132 firms ranging from 21 countries and 5 continents representing over 50 industries. Talking about the Indian companies, there were only three on the list – Wipro, Tata Steel and Tata Power.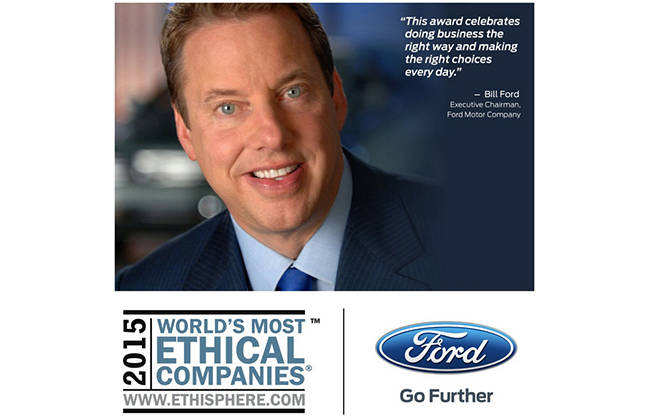 How Ethisphere Institute analyse?
Ethisphere Institute has developed a framework which analyzes performance of various companies for the title. The honor is given based on top ratings in five categories – ethics and compliance; corporate citizenship and responsibility; culture of ethics, governance and leadership; innovation; and reputation. "This award celebrates doing business the right way, and making the right choices every day" - Bill Ford
Bill Ford, Executive Chairman Ford Motor Company said, "Ethics and corporate citizenship are important factors that affect a company's reputation and success, and we are proud Ford is the only automaker to have received this honour for six consecutive years."
"The World's Most Ethical Companies embrace the correlation between ethical business practice and improved company performance," said Timothy Erblich, Ethisphere chief executive officer. "Earning this recognition involves the collective action of a global workforce from the top down. We congratulate everyone at Ford for this extraordinary achievement."
Source : CarDekho