The American carmaker Ford has touched another milestone as it rolled out 5-millionth vehicle equipped with EcoBoost engine from its Michigan Assembly Plant in Wayne, Michigan. The Blue Oval achieved this landmark in a time frame of less than three years when it first celebrated production of its 500,000th EcoBoost-equipped vehicle. Ford Focus took the honor of housing 5-millionth Ford EcoBoost fuel efficient 1.0-litre turbocharged engine.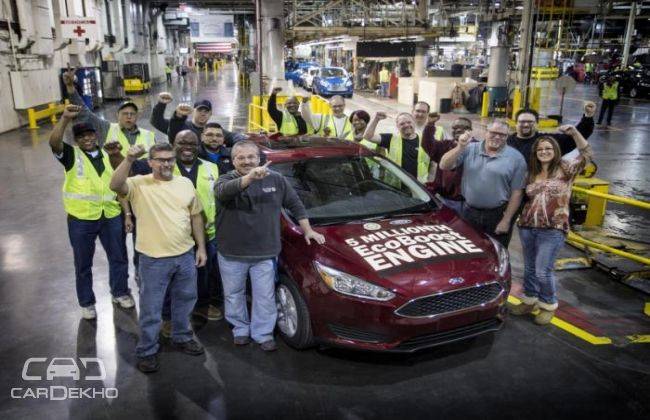 Company's revolutionary turbocharged engine was first launched in 2009 in Ford Taurus SHO carrying the 3.5-liter EcoBoost V6 while in 2010, the American carmaker affixed 62,704 vehicles with EcoBoost engine. The 2-millionth EcoBoost engine was rolled out from the production line of Louisville in October 2013.
Fast forward to current scenario, the company now offers EcoBoost engine on every model of Ford's passenger vehicles sold in the United States and the fuel-saving technology is now available in every region wherever the company operates.
Ford's 1.0-litre three-cylinder EcoBoost has received multiple award including the prestigious Engine Technology International's award and International Engine of the Year honor three years in a row. The 1.0-liter EcoBoost has also earned Ward's 10 Best Engines title two times. Ford is now producing more than 200,000 EcoBoost engines per month worldwide.
The EcoBoost family includes 1.5-liter, 1.6-liter, 2.0-liter and 2.3-liter four-cylinder engines, along with the powerful 2.7-liter and 3.5-liter V6 engines.
Source : CarDekho