This has been an action-packed week in the Indian automotive industry, as we witnessed one of the biggest product launches for our market— the Ford Ecosport. Several people have been waiting for this product to launch, and Ford took its own time to get everything in place.

We spotted Jeeps in Mumbai, as Fiat is preparing to introduce them sometime in October. Mercedes-Benz also launched the facelift version of the E-Class and this vehicle is priced at Rs 41.5lakhs (ex-showroom, Delhi). We also speak to Volvo's spokesperson and find out the company's future plans.

Ford EcoSport compact SUV launched at Rs. 5.59 lakh




Ford India has finally launched the much-anticipated compact sports utility vehicle EcoSport in India at Rs. 5.59 lakh (ex-showroom, Delhi). Ford Dealerships have already started taking bookings for the compact SUV, and the deliveries of the vehicle commences from today itself all around the nation. The EcoSport is now available with three engine options, and loads with exciting various exciting features.

Ford Ecosport against the Duster in images




Ford has announced the launch of the Ecosport and the pricing for the base model is about Rs 5.59 lakhs (ex-showroom, Delhi). The diesel variant on the Ecosport is a 1.5-litre diesel with 90bhp of power and is at par with the Renault's 85bhp Duster.

Ford Ecosport sets a new benchmark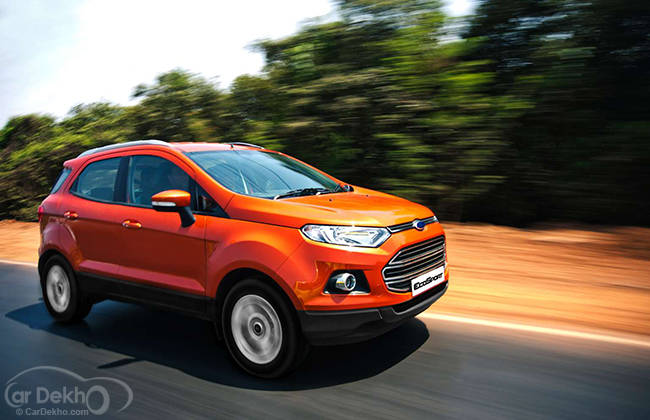 The world had been predicting the Ecosport to cost somewhere close the Duster, as that was the only picture known to us. However, Ford had a completely different game strategy. The company has spent a good one and half years to increase the local content on its new compact SUV. About 80-85% of the materials used on the Ecosport are built in India.

New 2014 Mercedes-Benz E-Class launches at Rs. 41.5 lakh




Mercedes-Benz India has launched the all-new 2014 E-Class in India at Rs. 41.5 lakh (ex-showroom, Delhi). This has been the company's third successive launch for the buyers, it already launched the new GL-Class SUV and A-Class premium hatchback. While the E200 CGI variant of the E-Class is tagged at Rs. 41.5 lakh, the E250 CDI is priced at Rs. 44.8 lakh. The company has also launched a limited launch edition E250 CDI for Rs. 49.90 lakh. All the prices are ex-showroom Delhi.

Local-assembled Audi Q3 to go on sale from next month?




Bigger is better, is what generally the Indian concept goes, and Audi is following the same strategy with its current portfolio. The Ingolstadt-based manufacturer is focusing on reducing the cost of Q3 by not just localising it, but also even introducing a low-spec variant on it.

Volvo is the fastest growing luxury car brand in India




After the launch of V40, Volvo is excited about the sales boost it will receive in Indian luxury car segment. We speak to Mr Tomas Ernberg, Managing Director, Volvo India to know more about their future plans and understand more about the V40.

Registered Jeeps spotted in Mumbai, launch in October




One of our avid readers, Samira Kelkar has spotted the Jeep's Grand Cherokee and the Wrangler on the streets of Mumbai. These vehicles were registered under MH-12 plates, which is where Ranjangaon is located. The Grand Cherokee and Wrangler and due to be launched in India, in October, around the festive season.

Ford Ecosport vs Renault Duster comparison review




The compact SUV is one of the fastest growing segments in India. Renault Duster was the first in the segment to be a runaway success, on the other hand now Ford has launched the Ecosport after about one and half years after displaying the vehicle for the first-time at the 2012 Auto Expo. People have been waiting for the Cosport to come and Ford has taken its own time to localise the product and assure everything is in place. We finally get our hands on the Ford Ecosport and drive it back-to-back with the Renault Duster. Read further, as we share our thoughts on the two.
Source : CarDekho - Ford Ecosport - Ford Ecosport launched, Jeeps spotted. Action packed week