Toyota has delivered the first unit of its much anticipated fuel cell vehicle, Mirai, to the Japanese Prime Minister Shinzo Abe. On January 15th, Toyota President Akio Toyoda handed over the world's first mass-produced fuel cell car to the highness, during a dedicated event in Tokyo.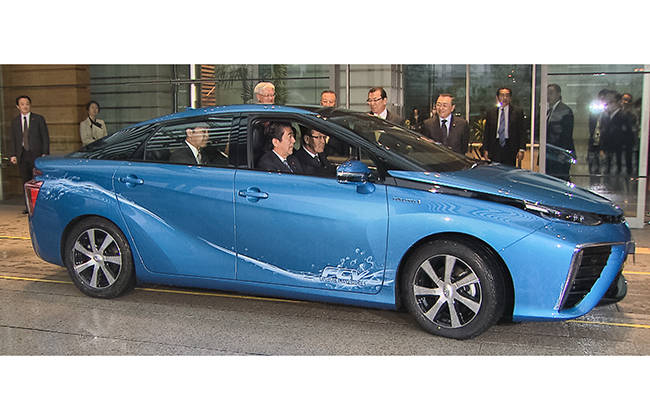 "This is a historic step and I'm truly excited. This will be a long journey, and to make this first step truly historic we will all need to work together," Akio Toyoda stated during the event.
Taking the Mirai for a spin outside the Japanese government's premises, the Japanese Prime Minister quoted that the vehicle marks the dawn of the age of hydrogen run vehicles.
"The vehicle accelerates well and it is truly quiet and comfortable. I would like all government agencies to start using them," said Shinzo Abe, PM, Japan.
The Mirai can travel up to 483 kms. on a single tank of hydrogen, refuel in less than five minutes and emits only water vapour. The compressed hydrogen gas is fed into the fuel cell stack where it combines with oxygen and moves through the fuel cell stack, creating a chemical reaction, thus producing electricity to power the 152 bhp electric motor driving the front wheels of the vehicle.
Toyota's Motomachi plant in Japan, the place that gave birth to the legendary Lexus LFA supercar, also produces the Mirai, and the production is restricted to just 700 units in a year.
Source : CarDekho