Bentley has rolled out its very first production-spec Bentayga SUV from their headquarters in Crewe, UK. Bentayga is Bentley's first ever SUV and initial deliveries are slated for January 2016. The automaker say that the Bentayga is a part of a £840 million investment programme and will now enter into full production at the Crewe manufacturing facility.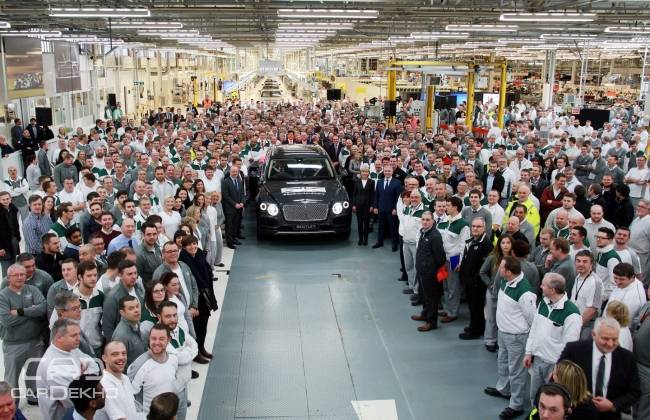 Wolfgang Dürheimer, Chairman and Chief Executive of Bentley Motors, said: "Bentley Bentayga will be the benchmark against which all other SUVs are measured, defining a new segment – the luxury SUV."
The Bentayga is touted as the most powerful SUV in the world. The power comes from a 6.0-liter W12 twin-turbocharged petrol. The motor develops 608 PS at 6,000 rpm and 900 Nm of torque starting from as low as 1,250 rpm and maxes out at 4,500 rpm. The engine is mated to an eight-speed automatic gearbox. This massive power propels the SUV from 0 to 100 km/h in just 4.1 seconds, on to a top speed of 301 km/h.
Don't Miss: Queen of England to be the owner of First Bentley Bentayga!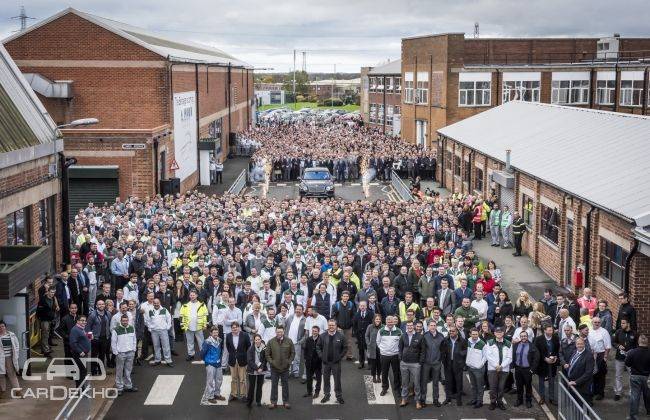 UK Prime Minister David Cameron, commented: "I am delighted that the first Bentley Bentayga has rolled off the production line in Crewe. It marks the culmination of a period of exceptional hard work by Bentley and its dedicated workforce as they brought this remarkable new vehicle to market. The Bentayga represents an ambitious £800 million investment into the Crewe factory backed by £9.5 million from the Regional Growth Fund. It has created hundreds of valuable skilled jobs for the area and secured the future of production onsite.
"Well done to all at Bentley. This is a moment of great pride for everyone who lives and works in Crewe."
Recommended: All you need to know about the Bentley Bentayga
Source : CarDekho