Feliz 27 cumpleaños de Lionel Messi thats Spanish for Happy 27th birthday Lionel Messi.
Lionel Messi, the Argentinian footballer was born on June 24th, 1987 in small province of Rosario, Santa Fe Province, Argentina. His talent was soon recognized by the local trainers and asked his family to move to Barcelona. Messi at the age of 11, was diagnosed with a growth hormone deficiency, but it was the Barcelona Football Club who offered to pay Messi's medical bill on the condition that he would enroll himself in the Barcelona youth academy. And the rest we know is history, with every major award finding its space in Messi's home showcase. The long list of his awards include four FIFA/Ballon d'Ors, three La Liga Player of the Year Awards, a Gold Medal at the Olympics. He has also been named as World Soccer Player of the Year twice.
Forbes, in its May 2014 edition ranked Messi just behind Cristiano Ronaldo in the list of world's highest paid players with earnings of $65 million. Now with this kind of money, you are left with zillion of choices to spend which mostly includes buying expensive villas and estates, flying around in your own chopper and getting your butt kicked with some of the fastest sportscar available on the planet earth. And yes, he does all these things, but in a kind of modest way. His garage includes Ferrari F430 Spyder, Maserati GranTurismo S, Dodge Charger SRT8, Maserati GranTurismo MC Stradale. Audi Q7, Audi R8 Spyder, Lexus SUV, and Toyota Prius.
We have created a list of Messi's top five cars Ferrari F430 Spyder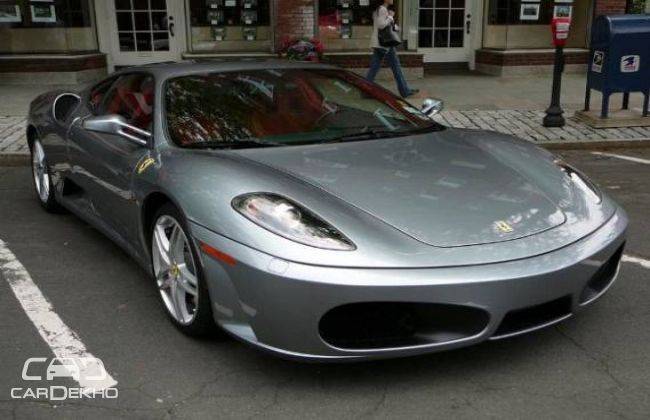 Ferrari F430 Spyder powered by a massive 4.3 liter V8 engine that churns out a massive power of 483bhp and 465Nm of peak torque. The engine is coupled to 6-speed manual with automated shifting gearbox. The car is capable of touching 100kmph mark in less than 4 seconds. Messi bought this red hot speedster after signing his first big deal with Barcelona for approximately 13 million dollars. The Ferrari F430 Spyder cost the young Messi around One hundred and ninety thousand dollars (USD 190,000= INR 1,14,16,150 ). Maserati GranTurismo MC Stradale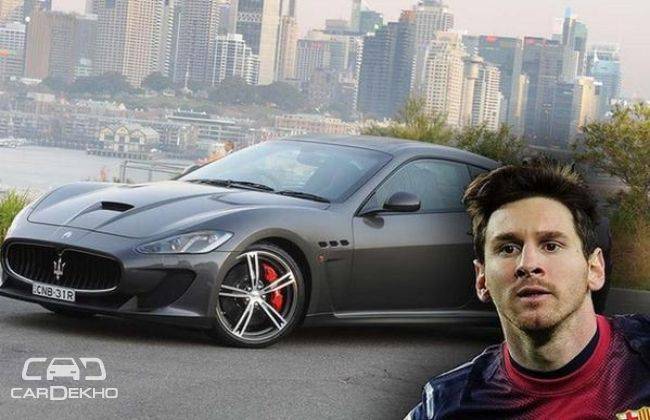 The new Maserati MC Stradale is both stylish and sporty! The car rides on 20 inch alloy wheels carrying another V8 engine, but this time with more meaner 4.7-litre engine. The car propels a power of 460bhp and 509Nm of torque. The car is capable to reach a top speed of 302kmph and can achieve 100kmph mark from standstill in mere 4.5 seconds.
Audi R8 Spyder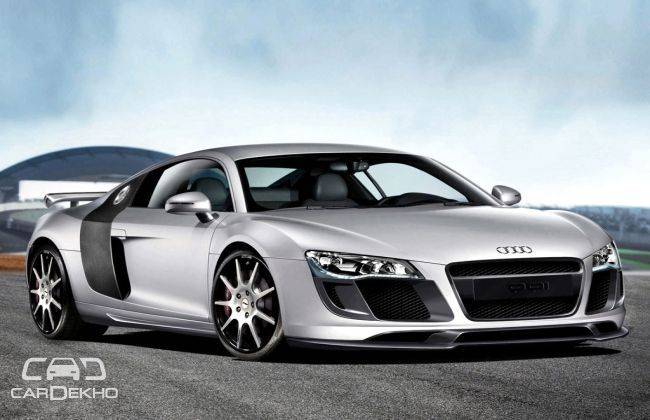 Messi is long around with the four ring German company. Audi being a sponsor of his club Barcelona, the Argentinian loves to roll in the Audi and that too in an R8 Spyder. The car features Audi's signatory Quattro permanent all-wheel drive system. The footballer loves to ride this car with his long term girlfriend Antonella Roccuzzo on the country side of Barcelona. Audi R8 is offered with a two engine configuration- the 4.2-litre V8 FSI engine with a power output of 423bhp and a more fierce 5.2-litre V10 FSI engine with 512bhp. The engine is mated to 7-speed dual-clutch transmission which allows the car to sprint from 0 to 100 kmph in 3.8 seconds. Dodge Charger SRT8
Well the list cannot be completed without the inclusion of American muscle. This blast from the past features a GTO like design character and a mammoth 6.4-liter HEMI V8 engine which power the rear wheels. The heavy V8 engine musters a power of 475bhp and 637 Nm of torque. The car cost the Argentinian captain a buck lot of USD 50,000. Audi Q7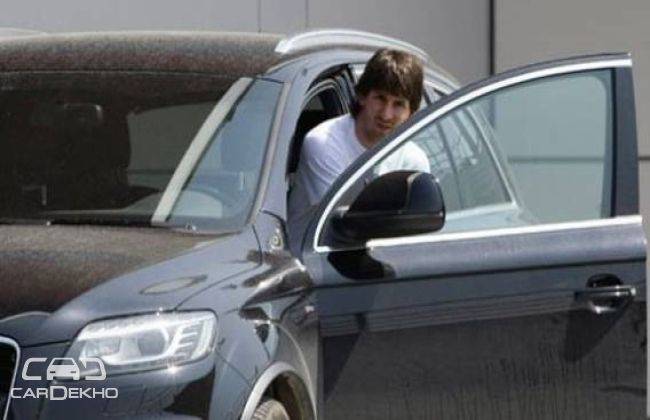 Well most people opt for one SUV coming from the Bavarian manufacturer, but ohh no! Messi has two Audi Q7 one painted in Red while the other in White. The Q7 offers a seating capacity of 7 people-a full sized premium SUV, the one he uses to go on family tour. The SUV comes equipped with Audi's MMI infotainment interface and Audi Connect which connects to Google Earth - something to used on the roads less traveled. The SUV is though low in terms of power development but be sure, it is capable of achieving a 100kmph mark in 6.9 seconds.
Source : FIFA 2014 Special: Birthday boy Lionel Messi and his sizzling hot rides