After plenty of anticipation Ferrari has finally unveiled the replacement for its iconic Ferrari 458 Italia – the 488 GTB. The successor swaps the Italia's 4.5 litre engine for a smaller but punchier 3.9 turbocharged engine. Though the horses have gone down, the power figures have gone up from 563 bhp to 660bhp and it now delivers a torque of 760Nm which peaks at 3000rpm than the Italia's which peaked at 6000rpm.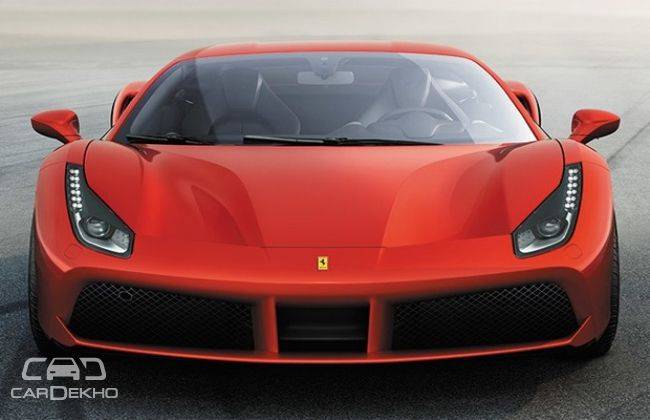 All this power helps this beauty accelerate from standstill to 100kmph in just three seconds with a top speed of more than 330kmph. It's not just the performance figures that change in the 488GTB, handling characteristics have also changed – the GTB offers reduced drag and produces 50% more down force than its predecessor. The engine comes mated to an eight-speed speed gearbox with twin clutch paddle shifters and a variable torque management system which ensures the massive torque is delivered in a smooth liner manner.
The car is now more stable thanks to Ferrari's slide slip control 2 system which now just doesn't improve acceleration around corners but also controls the active dampers which make the car more stable during high speed maneuvers. It also has a distinct exhaust note, which is a trademark of the Prancing horse.
The 488 GTB has new adds ons in the form of split five-spoke wheels, and revised LED lighting joins thoroughly revised aerodynamics starting at the front of the car, where the 458 Italia's malleable aero whiskers that deformed at speed have made way for a wide, conventional splitter with twin central supports that draw parallels with recent formula one cars and the LaFerrari supercar.
Other aerodynamic features include a full blown spoiler at the rear that uses hidden active flaps to direct air toward a small aerodynamic blade mounted between the brake lights. High-mounted exhausts similar to those of the 458 Speciale allowed designers to build a larger diffuser at the rear, sucking the car towards the earth at speed.
Source : CarDekho