Tata has taken the crown from Alto K10 as country's most economical automatic vehicle today with the launch of 2015 Nano GenX Easy Shift. Both the vehicle uses the same Automated-Manual Transmission. So we pitch Tata's closest rival on a spec comparison, although Nano AMT costs nearly 1.3 lac less compared to Alto K10 AMT.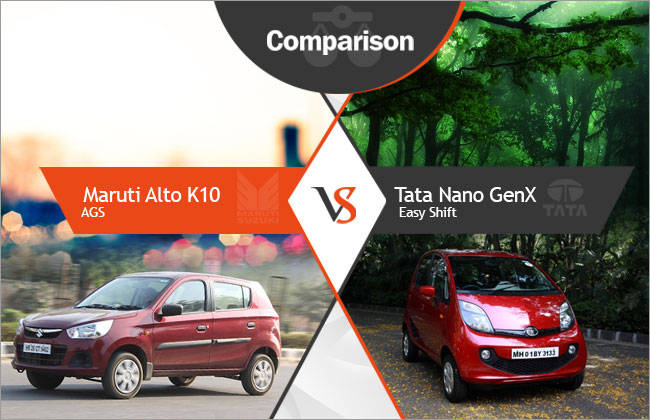 Prices (Ex-Showroom New Delhi)
Tata Nano Tata Nano XMA Easy Shift - Rs. 2.69 lac Tata Nano XTA Easy Shift - Rs. 2.89 Lac
Maruti Suzuki Alto Maruti Suzuki Alto K10 VXI AGS - Rs. 3.99 Lac Spec-Sheet Comparison - Nano GenX Easy Shift vs Alto K10 AGS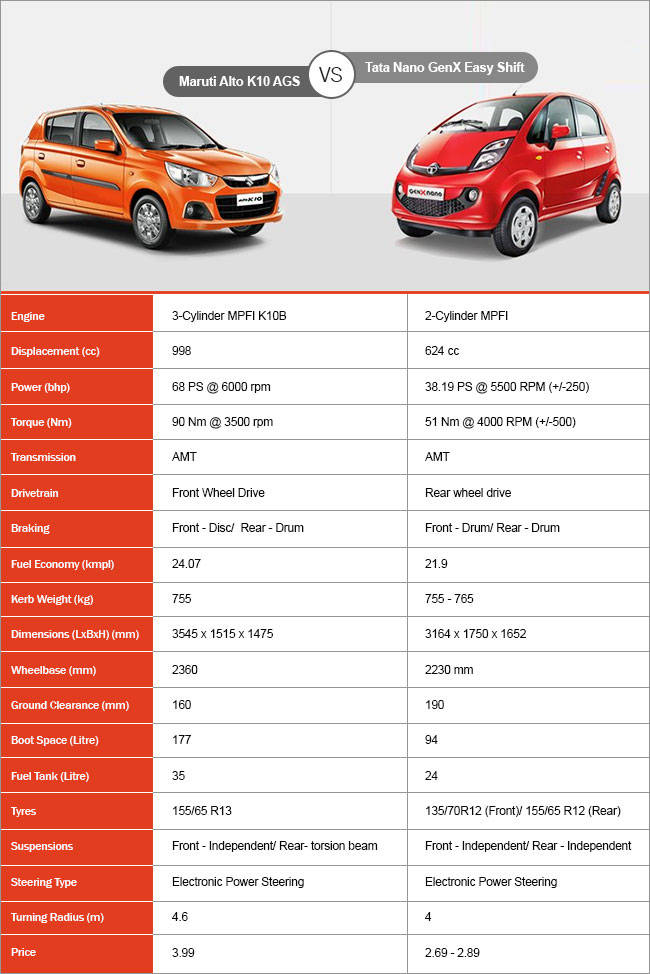 Engine
Alto offers bigger 3-cylinder engine compared to Nano's tiny 2-cylinder motor, but Nano offers rear-wheel drive layout and an all-independent suspension setup. Alto K10 offers 998 cc 3-cylinder motor compared to Nano's 624 cc 2-block engine. Maruti Alto K10 even produces nearly 30 PS more power and 39 Nm of extra torque compared to Tata. Both uses the same transmission, but Nano offers Sports mode.
Speaking of the efficiency, Alto K10 is more fuel efficient with 24.07 kmpl certified mileage compared to Nano's 21.9 kmpl while the fuel tank capacity of K10 is also larger at 35-liter compared to GenX's 24-liter. As per the kerb weight, Nano XTA variant is 10 kgs lighter while XMA trim weight is similar to that of Alto K10 VXI AGS at 755 kgs. Nano is not bad to drive, these figures are on just paper.
Read our Nano GenX Easy Drive review. Safety
None of the two cars here offers airbags or ABS with the AMT transmission. However, Nano does not offer airbags or ABS in any of the trims while Alto K10 offers driver airbag in the VXI optional trim with 5-speed manual gearbox. Apart from these, both the cars offer 3-point front seat belts. Moreover, Alto K10 get ventilated discs at the front and drums at the rear but Nano lack discs brakes, all the four brakes are drums. Comfort features and Convenience
Tata Nano trumps Alto K10 when it comes to comfort and convenience. To start with, Nano is a tall boy design which makes it easy when it comes to ingress and egress compared to Alto K10. It also offers better legroom, headroom, and shoulder room in both front and rear rows compared to Maruti. Talking about the features, Alto K10 VXI AGS offers built-in double-din dash with CD-MP3, Tuner and USB connectivity with 2-speaker system. Nano on the other hand, offer Bluetooth hands-free phone connectivity, CD-MP3, AUX-in, USB along with the 4-speaker system.
Interestingly, Nano offers central locking with remote for keyless entry while Alto K10 only comes equipped with central locking. The tiny car also comes with front fog lamps while Alto K10 does not offer front fog lamps in the VXI trim which has AGS option, front fogs are only available in the VXI (optional).
Further, Nano also offers digital driver info screen which shows plenty of data compared to Alto K10, it displays - Low fuel warning, Digital clock, Distance to empty, Trip meter, Average fuel consumption, Instantaneous fuel consumption and Gear shift indicator (only for 'Easy Shift' Automated-Manual-Transmission). Alto K10 only shows gear shift indicator (only for AGS) and digital clock in the driver info system.
Source : Tata Nano india - Competition Check: Tata Nano GenX Easy Shift vs Maruti Suzuki Alto K10 AGS