After witnessing the successful run of compact SUVs from Renault Duster and Ford EcoSport, ace passenger car maker Maruti Suzuki too decided to dip its beak in the profitable segment of compact SUVs and Crossovers. Alongside the Maruti Suzuki, South Korean automaker Hyundai is also prepping up for the Creta launch on 21st July, 2015, which too falls in the aforementioned segment. With the launch of two new compact SUVs, competition in the segment sure boils down to higher degree of conflict but you as customer have nothing to worry as more offering means more options and more value for money products. We have already compared S-Cross with Creta, so lets do a brief comparison of Maruti Suzuki S-Cross with Renault Duster.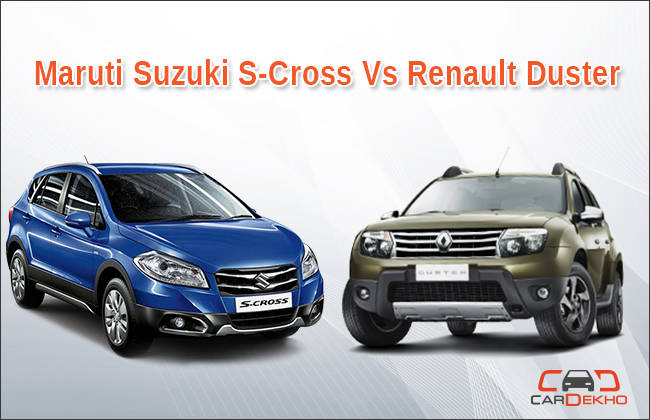 Now as we know, Renault Duster is been in the compact SUV segment for a while and has faired pretty well. The compact SUV has successfully solidified Renault's position in the country and it was because of this product only that the company has managed to stay up in the competitive Indian auto segment. Recently, Renault also introduced the AWD version of Duster in the country which is actually a cry for the help from the French automaker. And with Maruti Suzuki, known for its cut throat pricing, stepping in the segment is a concern for both Renault and Nissan.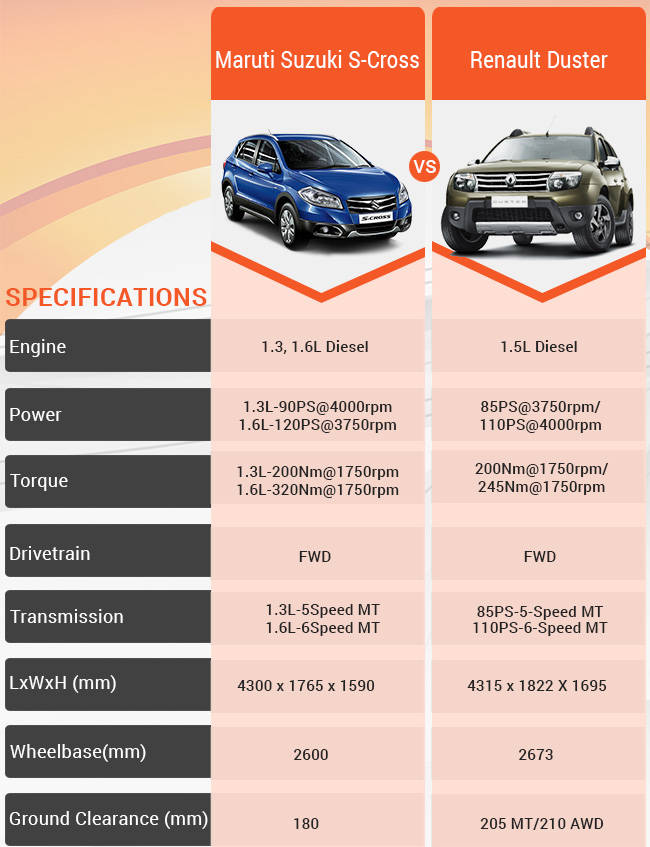 Exterior
Dimension wise Duster and Terrano has an edge over S-Cross. Duster with its macho and aggressive styling looks dominating and offers a greater road presence. Compared to S-Cross's 4300mm length, 1765mm width and 1590mm height, Duster has 4315mm of length, 1822mm of width and 1695mmo of height. Also, Duster offers far better ground clearance of 205mm in 2x2 / 210mm in AWD while S-Cross gets only 180mm of ground clearance. Now since we all know the condition of Indian roads especially in this monsoon season, I think ground clearance is the place where Japanese should have done better. Duster also gets better leg-room and knee-room courtesy to its wheelbase of 2763mm. Maruti Suzuki S-Cross on the other hand, has a wheelbase of 2600mm which is not that bad, but it still won't match to Duster's comfort. Under the Hood
To our surprise, S-Cross will only be offered with the diesel powertrain. The offering from Maruti Suzuki in diesel gets two engine options the 1.3-litre and the peppier 1.6-litre. The fuel efficient 1.3-litre gives an output of 90PS @ 4000rpm with 200Nm of torque @ 1750rpm. The engine is coupled to 5-speed manual gearbox. On the other hand, the 1.6-litre engine churns a max power of 120PS @ 3750rpm and peak torque of 320Nm @ 1750rpm. For a better performance, the engine in 1.6-litre gets 6-speed gearbox.
While Duster is offered in both petrol and diesel, we are considering only the diesel mill for this comparison. The 1.5-litre K9K is tuned in a way to give output in two forms, 85PS and 110PS. The 85PS model gets 5-speed manual gearbox, while the 110PS model is offered with 6-speed manual transmission. The company also offers AWD varaint in 110PS which is currently not in the cards for Maruti Suzuki S-Cross.
To sum up, Duster seems better on paper. It offers decent ground clearance (top priority for people opting for crossovers), good legroom with greater wheelbase and on top an AWD variant. Finally it all boils down to the price range. If Maruti Suzuki can some how crack that price range of Rs 7 to 7.5 lac it can surely eat up the sales of Duster. But then too, you know, Hyundai Creta is coming...
Source : Compare Maruti Suzuki S-Cross Vs Renault Duster