American auto major General Motors has showcased the 2014 Chevrolet Corvette Stingray C7 at the ongoing 2014 Indian Auto Expo. The Corvette Stingray is available in global markets in both coupe and convertible form. The new model has been significantly different from its predecessors.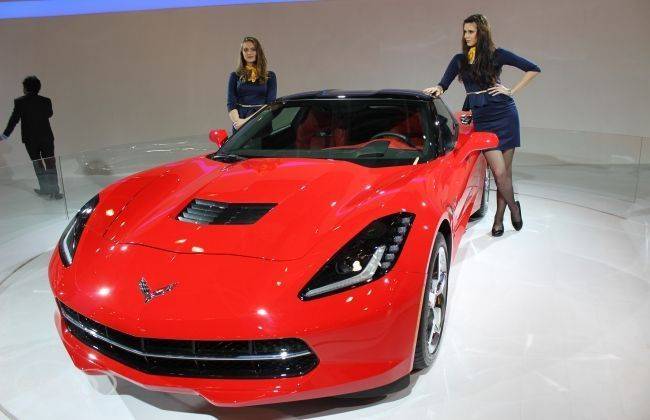 The car has been completely redesigned, however it retains the original shape that was first unveiled in 1980's when Vettes entered production. The Corvette Stingray C7 has a sleek front fascia that feature Bi-Xenon headlamps with LED turn signals and chrome inserts. The large air intake feeding the 6.2-litre V8 engine that offers the iconic Corvette a character of its own.
All of the performance technology and capabilities introduced on the Corvette Stingray Convertible carry over to the Coupe. The only structural changes is the folding top and repositioned safety belt mounts. The attraction to the Corvette Stingray's driving experience is an all-new, more rigid aluminum frame structure, which is around 57 per cent stiffer and 45kg lighter than the steel frame.
The Chevrolet Stingray C7 is powered by the new LT1 6.2-litre V-8 engine that churns out a maximum power output of 450bhp and 610Nm of peak torque. The LT1 feature several advanced technologies including direct injection, active fuel management and continuously VVT to support an advanced combustion system designed to balance power and efficiency.
Source : CarDekho - Chevrolet Corvette Stingray C7 Unveiled