The South Indian floods occurred in November-December 2015. Besides wreaking havoc in lives of the people, it also took a toll upon the economy of the states. One of the worst impacts was on the automobile industry, which is still recuperating from this natural catastrophe. Thousands of affected car owners, insurance companies, bankers and dealers are now sending selling request of their flood-hit cars. These cars often range from hatchbacks to luxury sedans and SUVs.
Copart India PVT LTD, subsidiary of the US-based auctioneer currently has piles of flood-hit cars at its Sriperumbudur yard and more counting with each passing day. Mr. Rajeev Kapoor, Managing Director, Copart, said that the cars are being auctioned off as low as ten times of their on-road price. He further stated that cars as new as 2015 models are being sold off at a throwaway prices.
On Wednesday auction, cars like Audi A4 series were available at Rs. 3.4 lac against the actual price range of Rs. 33.5 lac-Rs. 41.7 lac (ex-showroom, Chennai). Similarly, the BMW 3-Series sedan is available at Rs. 6 lac against the current model price range of Rs. 35.5 - 44.7 Lac (ex-showroom, Chennai). Further, the 2012 Porsche Cayenne model is available at base price of mere Rs. 5 lac.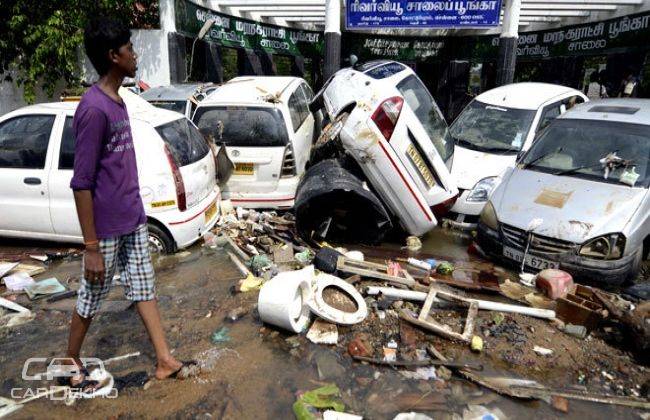 Company has also made it crystal clear that they are only auctioning the cars and the required documents, they are not responsible for the condition and repair of the car. Last week, the online auction portal received 10 cars on a daily basis. The interested buyers are registering with refundable security amount on the website.
Other auction portals like Select Auto Mart has about 10,000 flood-hit cars put on sale, out of which around 5,000 have been auctioned in mere 20 days.
Also Read Honda takes the Initiative to Help its Customers Affected by Chennai Floods Maruti Steps in to Help the Flood Affected Customers
Source : CarDekho