The partnership of Mercedes and MV Agusta was celebrated by automakers with the unveil of a one-off F3 800 motorcycle. The motorcycle is promoted as the "epitome of performance and passion" and finds the foundation of its inspiration in the sublime Mercedes-AMG GT S. The motorcycle features the same AMG solarbeam yellow exterior with black stripes and AMG/MV Agusta badging. AMG GT S come with Nappa leather trim and the Agusta F3 800 motorcycle features a black leather seat that flaunts yellow contrast stitching.
Also Read: Mercedes-AMG GT S is the new safety car for DTM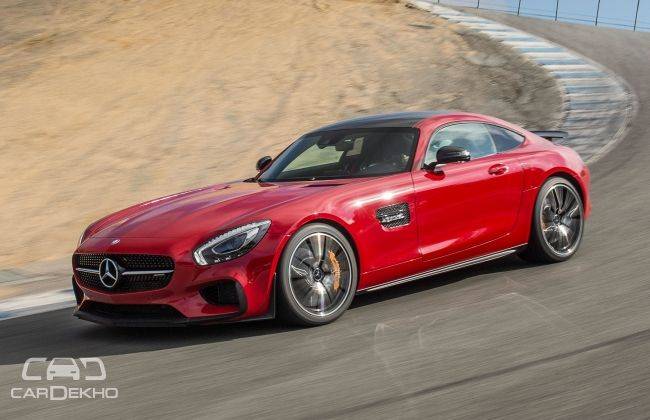 The AMG GT is powered by a twin-turbocharged 4.0-liter V8 engine that churns out a power output of 503bhp and torque of 650Nm at 1750-5000rpm. The car also features a 7-speed dual-clutch gearbox that helps the car accelerate from 0 to 100kmph in 3.7 seconds.
Mercedes AMG GT S bodes an impressive benchmark for the homage motorcycle but even though it isn't as powerful as the GT S, the Italian automaker manages to shock-and-awe. The 798 cc three-cylinder engine manages to belt-out 148 PS (108 kW) and 88 Nm (65 lb-ft) of torque and helps the F3 800 achieve a top speed of 269 km/h (167.1 mph).
Also Read: Mercedes AMG GT S Prices Announced
AMG GT Ss that are available in India do not offer features like lane keep assist, collision prevention and radar guided cruise control. The AMG GT S is a lightweight car, courtesy of its components that are manufactured out of aluminium. This helps the car attains an amazing power to weight ratio and immaculate handling characteristics.
Also Read: Mercedes-AMG GT S and C 63 S Estate are the Official cars of 2015 F1 Championship