Nico Rosberg may have won the Brazilian Grand Prix, but championship title is still a long shot for him. His teammate Lewis Hamilton is already 17 points ahead and with only one race at Abu Dhabi remaining, chances of Hamilton's becoming a World Champion are stronger. Even if Rosberg wins the last race, Hamilton's finishing 5th will make him a world champion. Till now, out of 18 Grand Prix races, Hamilton have won 10 races while his teammate has won 5 races and remaining 3 is under Red Bull's Daniel Ricciardo name.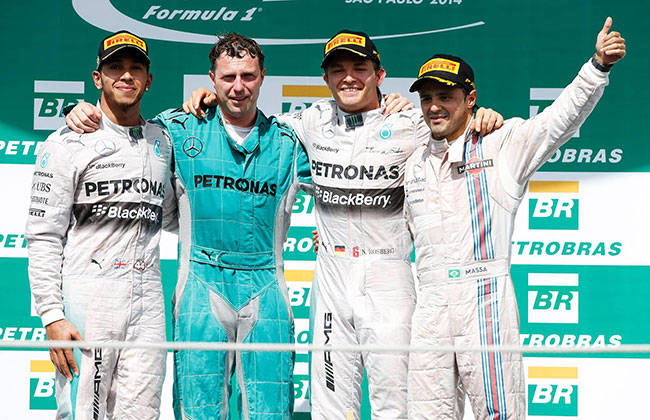 At the Brazilian Grand Prix, Rosberg scored crucial 25 points but most importantly braked the last five winning strike of Hamilton. Rosberg completed his 71 laps of 190 miles (305.775 kms) in 1 hr 30 min and 2.555 seconds with an average speed of 203.84 mph 328.05 kmph while his teammate Hamilton was just 1.4 seconds behind and finished 2nd. The Mercedes duo breaks the Formula One records with 11 one-two finishes and 30 podium placings in one season.
Williams Felipe Massa finished 3rd and behind him was the McLaren's Jenson Button. A disappointing finish was for Red Bull's Sebastian Vettel at 5th position followed by Fernando Alonso at 6th spot in his red hot Ferrari. Force India's Nico Hulkenberg only managed to score four points at 8th position while his teammate Sergio Perez finished the race at 15 position.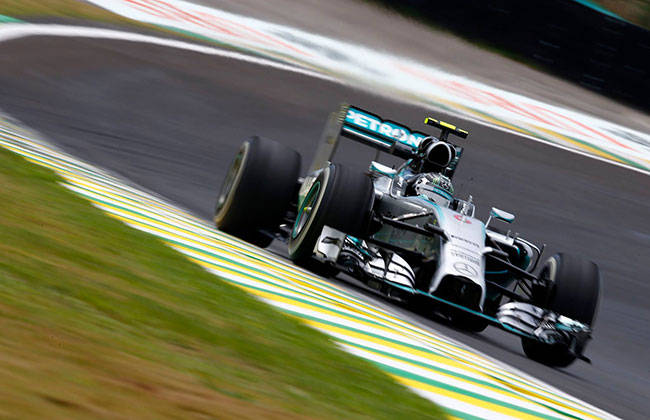 After winning the Brazilian Grand Prix Nico Rosberg said, "That was a fantastic weekend and I felt very comfortable over the whole three days. I had to learn from Austin, which was a big disappointment, and I think I achieved that. I was able to control the pace a bit better and didn't let Lewis come too close. He drove really well and was always right there pushing me."
Source : CarDekho