BMW has announced that the BMW M4 Coupe will be the Official Safety Car of 2015 MotoGP World Championship. This marks the second time the M4 Coupe to get be the safey car after last year and 17th season for BMW M as "Official Car of MotoGP" ever since 1999. MotoGP organiser Dorna Sports BMW M Division have already extended their cooperation up to 2020, which means both will celebrate the 20th anniversary of BMW M in MotoGP in 2019. The BMW M4 Coupe Safety Car will be powered by a high revving six-cylinder inline engine with M TwinPower Turbo technology producing a maximum power of 431 hp and peak torque of 550 nm.
The BMW M4 Coupe Safety Car will also be the first car from the brand to be equipped with an innovative water injection system. The system will be tested during the MotoGP season, following which the technology will be brought to future BMW M production models. The advantages of water injection can be used in different ways, depending on the engine and vehicle design. Water injection increases the upper performance limits, which have otherwise been restricted thermally. Apart from increasing the performance and torque, the innovative system also ensures outstanding efficiency with benefits in terms of full-load consumption and exhaust emissions of the BMW M4 MotoGP Safety Car.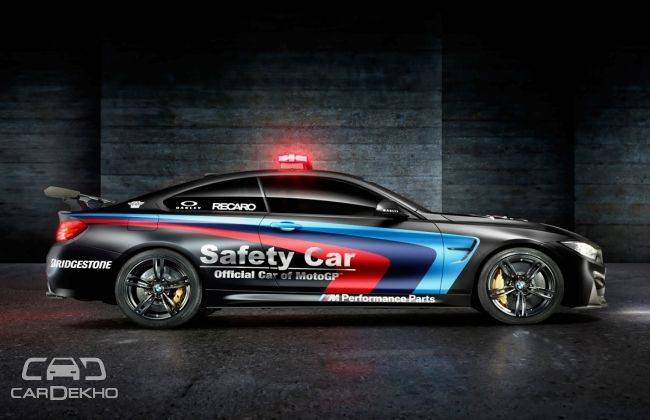 BMW M division has also opted for a sophisticated cooling system for maximum performance. The system employs additional radiators next to the main radiator to ensure balanced temperature control for the high and low temperature circuits, as well as for the gearbox and turbocharger. The exhaust air, which is heated by the turbocharger, is cooled using indirect intercooling and is supported by an additional electric water pump.
Source : CarDekho