The German luxury automaker BMW has inaugurated its third dealership in the state of Gujarat in Rajkot. Parsoli Motors was inaugurated by Philipp von Sahr, President, BMW Group India and Mr. Talha Sareshwala, Managing Director, Parsoli Motors. All the three dealership are of Parsoli Motors only and two are in Ahmedabad and one is in Surat. This new dealership adds to a total of 38th dealership outlets in India, and the company is eyeing to take this up-to 50 by the end of 2015.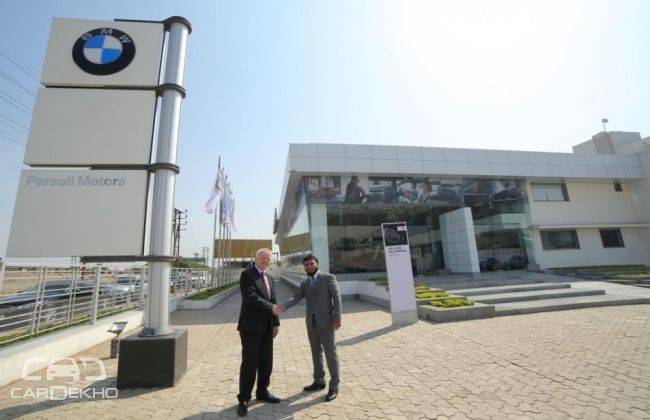 Speaking on this occasion, Philipp von Sahr, President, BMW Group India, says, "BMW is an admired premium auto manufacturer and continues to set new benchmarks in India. BMW India is committed to creating unparalleled customer delight. We believe that the circle of 'Sheer Driving Pleasure' can only be completed by introducing innovative products, building world class dealerships, maintaining state-of-the-art local-production facilities and having a motivated workforce that engages passionately with our clientele to deliver premium services ahead of time. With the launch of our third dealership in Gujarat, we have further strengthened our commitment to one of the most promising markets in India."
Showroom is situated near Greenland Circle, NH 8-B, Rajkot Ahmedabad Highway, Rajkot and is spread over 40,000 sq ft featuring showroom integrated with after-sales service workshop. Showroom will display 10 cars and also features 'Special Display' for high -end cars. There's also a 'Lifestyle Section' which displays BMW's genuine premium accessories for sale to customers and BMW fans. The state-of-the-art workshop comprises of eight service bays (including mechanical, body and paint) that can service up to 150 cars per month.
Mr. Talha Sareshwala, Managing Director, Parsoli Motors said, "Our partnership with BMW India started seven years ago and it has been an absolute pleasure working alongside BMW. The foundation of our association is based on bringing extremely high standards in sales and service of premium automobiles to India. As BMW India grows, we also grow. Since 2008, we have established a strong business and continued to expand our footprint. Today, we are very excited to launch our third facility. We share BMW India's business outlook and are dedicated to serving our growing clientele with enthusiasm and passion."
Source : CarDekho