We were all in awe of the latest Bentley offering, the Bentayga SUV, when it was released but our excitement was short lived as we realised that the very first unit of the car was sold to Her Majesty Queen Elizabeth II and there were no units for sale. The ray of hope surrounding the possibility of this goliath of a SUV, hitting the streets in its various iterations seemed to be fast dissipating. However, the carmaker has now sprung to our salvation as the first lot of cars, dubbed as "First Edition" has made its way to Los Angeles.
The car was previewed to an exclusive set of wealthy customers at Sunset Marquis Hotel, Los Angeles. The global production run of these First Edition Bentley Bentaygas is limited to 608 units and this particular number of units is a throwback to the 608 PS of power generated by the 6.0-litre W12 petrol engine featured in the car. The powerplant in the SUV also produces 900 Nm of torque, which helps the car to go from 0 to 100 kmph in under 4.1 seconds. The car features a top speed of 301kmph, which coupled with its other impressive statistics makes the Bentley Bentayga, world's fastest production SUV. The 608 PS power output also makes Bentayga, world's most powerful SUVs in terms of power output metric units.
The First Edition will also feature a new Breitling watch, 22-inch black painted and polished alloy wheels, Union Jack exterior badging, illuminated tread plates and 10 special exterior color options. The Union Jack badging also makes its way inside the cabin, in addition to ambient lighting, diamond-in-diamond quilted leather seats and door trims, contrast stitching and embroidered seats. So, it should come as no surprise that there is a one year waiting period for every Bentayga booked and the fact that the first year units are already sold.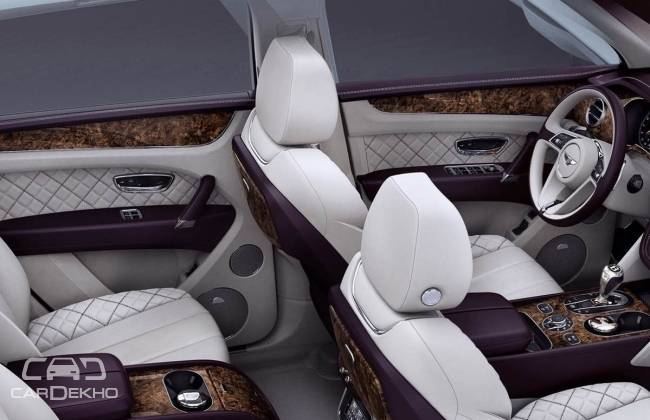 Also Read: Bentley Bentayga To Get Diesel Powermill Queen of England to be the owner of First Bentley Bentayga! The Big Bentley Arrives, Bentayga SUV Revealed Before Launch (Videos)
Source : CarDekho