Audi SQ7 was crashed by a test driver while the vehicle was undergoing a test run on the Nürburgring. This Super-SUV is due for unveil at the upcoming Frankfurt Motor Show. The mule car was kept undisguised and met with this unfortunate event with a crash barrier on the carousel corner.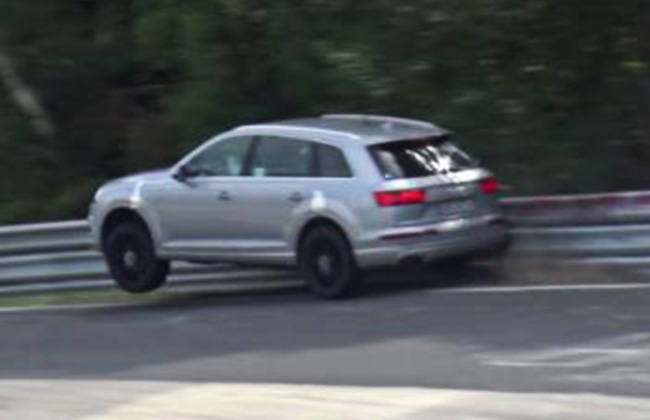 The test driver pushed the car too hard on the windy and swoopy curve where the over 2 ton SUV went out of control before crashing into the barriers and then went airborne from the front end. Realizing the error the driver slowed the car for a brief moment and then rushed back on the track with a similar pace. Surprisingly, the car didn't show much damage ,if you see the video, after it went through the crash.
Audi will equip the SQ7 with a V8 turbodiesel engine and an electric turbocharger boosting total output to more than 400 bhps. The engine could be a 4.0 litre or a 4.2 litre one that will allow this behemoth SUV to achieve 0-100 kmph in an estimated 5.5 seconds and further reaching a top speed of around 300 km/h. (Watch Video)
Speaking of India, the current Q7 is due for an update that could come most probably by this year end. Audi has worked upon everything from chassis, exteriors, interiors, weight reduction to better ride and handling characteristics. These will be reflected in the SQ7 as well, but whether Audi will bring it to India or not is still not clear. Though, as Audi has introduced two range topping performance cars earlier this year, the RS6 Avant and the RS7 Sportback, they might bring the SQ7 as well.
Source : Audi SQ7 Crashed While Testing In Nurburgring (Video Inside)