Audi has already made true claims that their cars get technology straight from their racing learning. The latest example comes in the form of the new R8 sport car featuring details on the steering and driver display inspired from R18 e-tron Quattro race car prototype. The highly precise sport focused car, new R8, will see sales beginning from the later part of summer this year. The other model to join the sale portfolio is the Audi R8 e-tron, which is the battery-powered brother of the R8.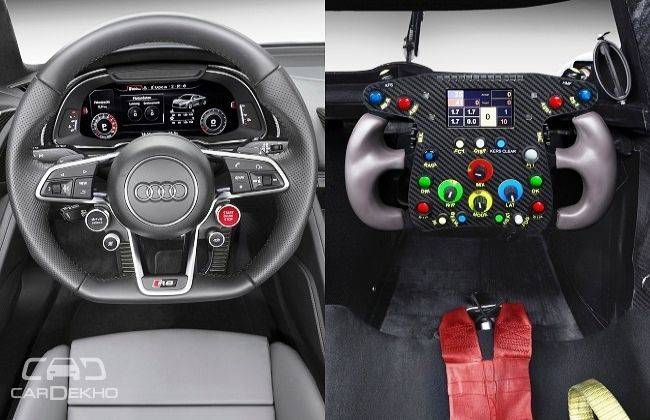 The newest iteration of the R8 has more power and is faster than than previous one along with, as Audi states, reliability. "Motorsport has been a part of our Audi DNA for many decades," says Prof. Dr. Ulrich Hackenberg, Board Member, Technical Development. "Audi stands for automotive dynamism more than any other brand. This is especially true of our new high-performance Audi R8. Its concept is extremely close to that of a race car – in its controls and displays too."
The race inspired steering on the R8 V10 plus now has 20 controls on it, which includes four new satellite buttons. Do not be alarmed as the LMP1 race car, the Audi R18 e-tron quattro, has nearly 33 buttons on it. Both these track bred machines, gear shifts are done through the steering and colour indicators let the driver know when the engine is nearing the red line. Key driving dynamic parameters can be set via control buttons on the steering wheel. In both the production sports car and the race car, information – such as tire pressure and lap times – appears on a digital display.
Source : Audi R8 price - Audi R8 family to get steering technology from Le Mans