The German luxury car manufacturer Audi has launched the limited edition Audi R8 LMX at Rs 2.97 crore (ex-showroom Delhi/Mumbai). This is a limited edition model with a production run limited to only 99 vehicles globally. The Audi R8 LMX is one of the most powerful Audi R8 ever as it churns a max power of 570 hp and accelerates 0 to 100 km/h in 3.4 seconds with a top speed of 320kmph.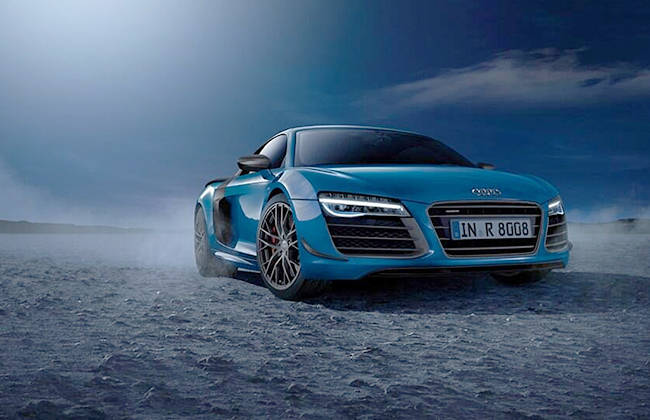 R8 LMX comes with revolutionary laser beam lighting. The lights are activated at a speed of 60 kmph and above and offers high range of visibility. The Laser high beam lighting offers illumination range upto 500 metres. The car embraces bucket seats covered in Fine Nappa leather with Sepang Blue diamond pattern. The backrest is finished in Ara Blue while Fine Nappa leather is used on the selector lever for the S tronic and the knee pads. The floor mats have black piping and Sepang Blue stitching.
Mr. Joe King, Head, Audi India said, "What better way to celebrate another record year at Audi than bringing in a car which denotes our claim of "Vorsprung durch Technik"- the new Audi R8 LMX. The combination of LED and laser high beam lighting was used for the first time on the new Audi R18 eâ€'tron Quattro at the 24 Hours of Le Mans last year. Audi is thus continuing its tradition of using racing to test new technologies destined for production. The limited-edition Audi R8 LMX is the first production car in India to come equipped with laser high beam lighting, a particularly brilliant innovation integrated in a sports car- The Audi R8 LMX thrills with intelligent lightweight engineering, impressive design and breathtaking driving performance right from the word go. The Audi R8 LMX is beautiful to look at and marvelous to drive. We are positive that Audi R8 LMX will excite Audi enthusiasts and add more fans into the ever-growing Audi fan base."
Audi R8 LMX is powered by midâ€'mounted engine 5.2 liter, V10 engine. The engine is mated to sevenâ€'speed S Tronic gearbox which transfers the power to the Quattro permanent allâ€'wheel drive system.
Source : CarDekho