Looking at others within the industry, Chevrolet too have announced special prices for the Beat, Sail UVA, Sail sedan and the Enjoy. As per their latest offer, the Beat (Petrol) is currently being offered at Rs 3.34 lakhs instead of Rs 4.06 lakhs which indicates there is a total benefit of up to Rs 72,000. While Beat (Diesel) would cost Rs 4.14 lakhs as per the original Rs 4.89 lakhs that provides an additional benefit of Rs 75,000.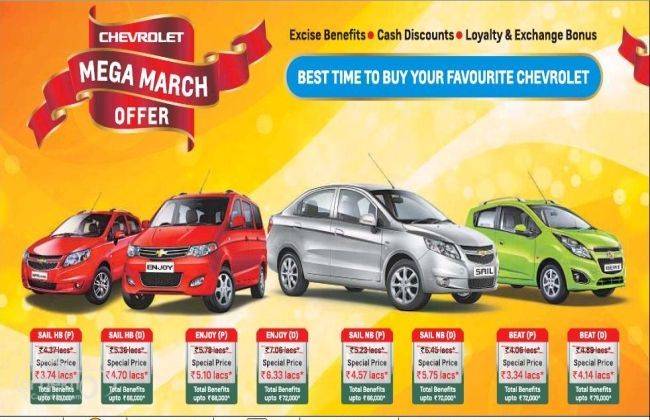 Sail U-VA on the other hand comes in at Rs 3.74 lakhs as of Rs 4.37 lakhs which shows a discount of Rs 63,000 for the petrol variant. While the diesel is now available for Rs 4.70 lakhs as against Rs 5.36 lakhs indicative of Rs 66,000 off. Its bigger sibling the Sail sedan petrol model now costs Rs 4.57 lakhs as of Rs 5.23 lakhs showing a total benefit of Rs 66,000. As for the diesel variant of this sedan, it will available at Rs 5.75 lakhs instead of Rs 6.45 lakhs exhibiting an off of Rs 70,000.
Chevrolet Enjoy, their MUV is available at Rs 5.10 lakhs instead of its earlier price that stood at Rs 5.78 lakhs for the petrol version. Therefore the overall discount stand at Rs 68,000. The same way the diesel now is being offered at Rs 6.33 lakhs instead of Rs 7.06 lakhs thereby featuring Rs 72,000 discount on it. The only model left out of this scheme is the Chevrolet Cruze.
Available through Chevrolet dealerships, these models can be purchased as per the scheme only in North India. Besides this, the American auto manufacturer is also offering 'loyalty and exchange bonus' to its customers.
Source : CarDekho - Apt time to buy a Chevrolet