The Sant'Agata based radical supercar manufacturer Lamborghini have revealed its much awaited Aventador SuperVeloce at the 85th Salon de l'Automobile in Geneva. This brutal supercar will make it to the international market till late spring 2015. This new car is honed for power, light weight, improved aerodynamics and some more new technologies. The Aventador LP 750-4 SuperVeloce is projected as the most pure incarnation of a Lamborghini yet.
Speaking on the occasion Stephan Winkelmann, President and CEO of Automobili Lamborghini said, "The new Aventador SuperVeloce continues the Lamborghini tradition of SV models, pushing the boundaries in terms of performance and pure driving emotions." Adding to his statement, he addressed that "The original Aventador was presented four years ago, and the SuperVeloce pays homage to its passionate owners, as well as the fan community, whose enthusiasm has resulted in the biggest commercial success ever of a Lamborghini V12 sports car. In the SuperVeloce Lamborghini's expertise in lightweight engineering is clearly evident. With technological features which, combined with design, quality standard and craftsmanship, the SuperVeloce results in the most exclusive, pure and emotional production model in the history of our brand."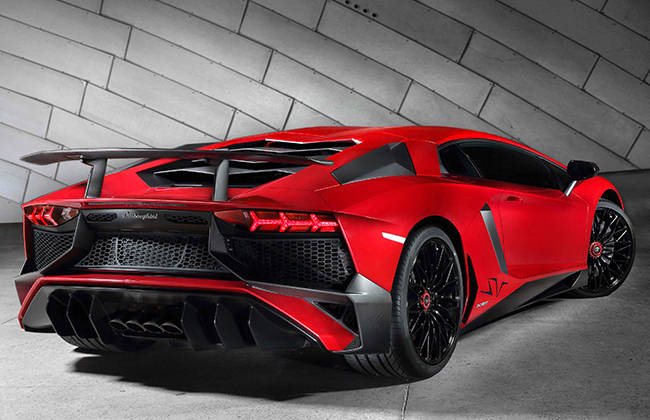 Major highlights include a 50 kg weight loss, thanks to substantial use of carbon fibre in its frame and interior construction, a 60 bhp power rise hence achieving a power-to-weight-ratio of 2.03 kg/hp. These contributing to a 0-100 sprint in just 2.8 seconds and a top speed of over 350 km/h. A Haldex all-wheel-drive system that constantly varies torque to wheels according to needs. Typical Lamborghini push-rod suspensions with adaptive dampers and Adaptive steering with three modes of operation: Strada (road), Sport and Corsa (Race Track). The aerodynamic are optimized by a whooping 150% eventually increasing the downforce by 170%.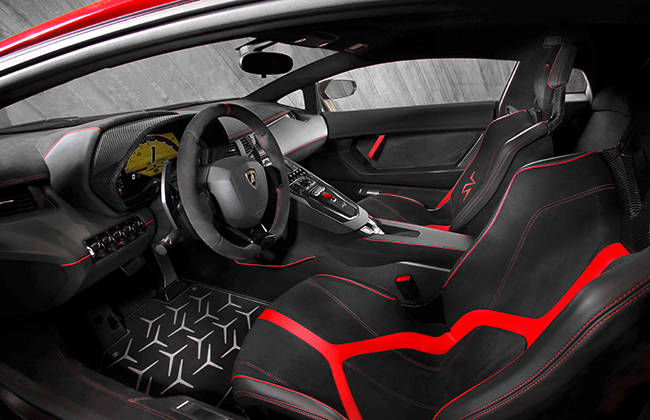 Engine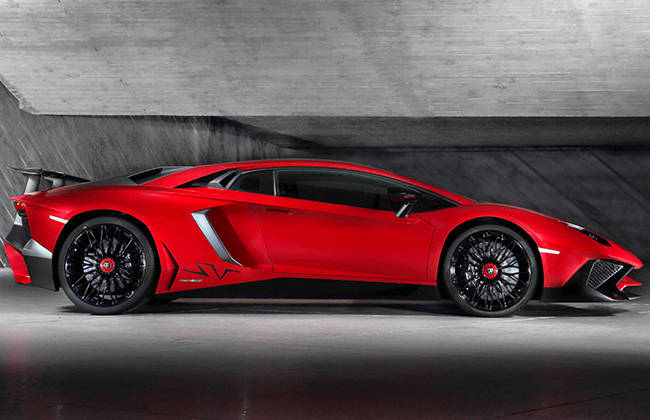 Lamborghini's 'holy grail', the 6.5 litre naturally aspirated V12, is tuned to churn out 750 bhps @ 8,500 rpm. Lamborghini have redesigned this motor to churn a bit more power than the regular Aventador. This mill is fitted with a lighter exhaust manifold that helps reduce engine back pressure, ultimately easing out its operation. Furthermore, the variable valve timing and variable intake system have been optimized to help make this Aventador SV 690 Nm of peak torque at 5,500 rpm.
Source : CarDekho