The 13th edition of Maruti Suzuki Desert Storm 2015 ended after a week of intensive and tough competition with Abhishek Mishra from Delhi being declared as the winner. This year's of Maruti Suzuki Desert Storm edition started from New Delhi and traversed towards Rajasthan on 23rd February 2015 with 130 participants. The rally came to an end today in Jaipur with only 69 participants making it to the finish line after covering approximately 2300 kms of western India.
Abhishek Mishra along with his navigator PVS Murthy grabbed the top honours driving a Grand Vitara in the XTreme category with a timing of 14:32:28 Hrs. Harpreet Bawa from Chandigarh and his navigator Ashwin Naik in their Vitara, grabbed the second position by clocking 15:05:09 Hrs followed by the team of Niju Padia of Bhavnagar and Shekhar V in their Pajero at 16:26:18 Hrs at the third position.
Speaking of his win Abhishek Mishra said," I am super thrilled at this victory. All the weeks hard work has been paid off. I am eagerly looking forward to next year's rally'. Speaking further he said, "it takes a lot of hard work, concentration and following the basic principles of safe driving to complete the rally".
Speaking on the occasion, Mr. Manohar Bhatt, Vice President, Marketing, Maruti Suzuki said, "The participants did really well and increased the bar for the next rally. It indeed was a test of man and machine, which only few brave hearts were able to finish and win." He further added, "It's great to see the passion, for motorsport, which lies in their heart. Team Maruti Suzuki will always provide its motorists the best of the opportunities and vehicles to face such extreme sports. We hope to see all the daredevils to raise the bar higher. We will be back next year with another exciting and adrenaline pumping edition of the Maruti Suzuki Desert Storm rally. "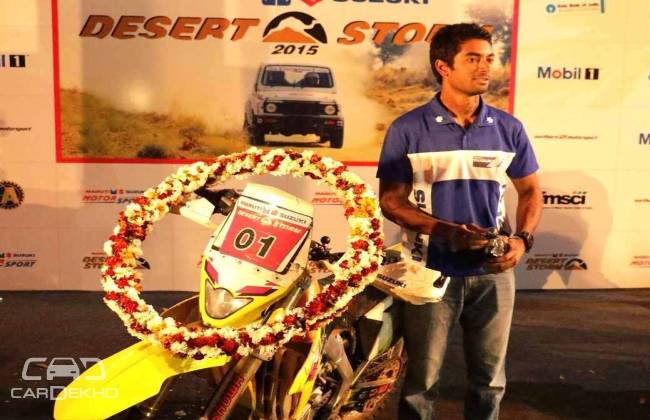 RESULTS AFTER LEG 5:
XTreme Cars
1. Abhishek Mishra & PV Srinivas Murthy – 14:32:28 Hrs
2. Harpreet Bawa & Ashwin Naik – 15:05:09 Hrs
3. Niju Padia & Shekhar V – 16:26:18 Hrs
NDure Cars – End of Leg 5
1. Vishnu Singh & Adithya Anthony – 0:25:42 Hrs
2. Somdeb Chanda & Neerav Mehta – 0:33:28 Hrs
3. Shravik Shah & Amit Kr Saha - 0:34:18 Hrs
XPlore Cars- End of Leg 5
1. Kartil Maruti & Sankar Anand – 0:5:26 Hrs
2. Subham Midha & Abhinav Kalra – 0:4:46 Hrs
3. Anubhab De & Chandan Sen – 0:3:04 Hrs
Moto Quad-
1. CS Santhosh – 1:29:59 Hrs
2. Jes David – 1:44:49 Hrs
3. Mohit Verma – 2:4:58 Hrs
Source : CarDekho