Surprised? Of course you are, and so were we, to be honest. It's called the Flux Capacitor and it smokes everything from a Nissan GT-R to an Audi R8 to a McLaren 650S. Super cool, eh? Before we get to the interesting bit, here's a quick history lesson.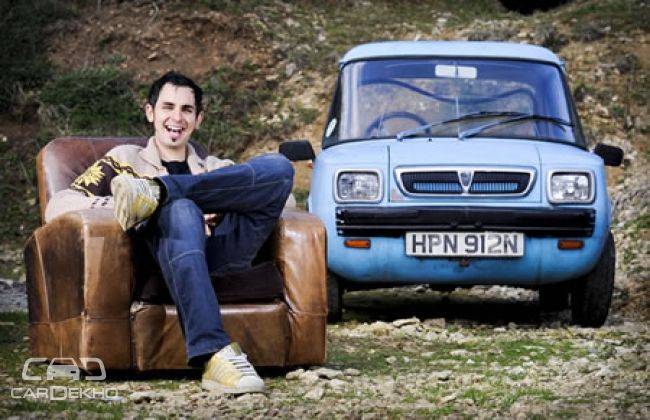 The Flux Capacitor is based on the old Enfield 8000, that started off in life as a humble two-seater electric car. It packed a rather dreary 8PS (6kW) electric motor, paired with lead-acid batteries. This made the little hatch as fast as your average house mouse, with a rated top speed of 77kmph. Only 120 of these cars were ever built, more than half of which served the local electricity board for research.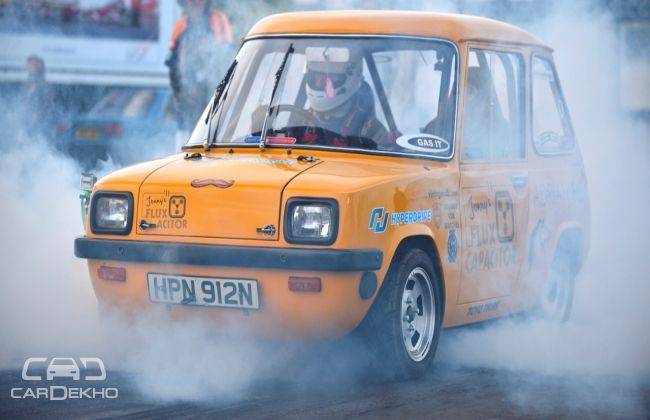 This particular car in question belongs to Jonny Smith, a well-known motoring journalist and TV presenter. The car itself wasn't in good shape to begin with, since it had been heavily damaged by flood water. Naturally, the original (and also dead) circuitry was chucked out for a thoroughly modern electric power plant. Under the completely rebuilt fibreglass body lie 188 lithium-ion battery cells that generate an impressive 2,000 amps. Pair that with a couple of 9-inch motors that power the rear wheels, and what you have, is a drag-strip obliterating hatch.
Power now stands at 800PS, a full 100 times more than the original figures. Want a bigger number to wrap your head around? Take the 1627Nm of torque that the motors make. Considering the car is electric, all of that torque is available all the time. We're grinning just thinking about it! The only small numbers in the mix are the drag times. Jonny's Flux Capacitor is the fastest (street-legal) electric drag car in the world. It set a time of 9.86 seconds, clocking a top speed of 195kmph in the process. Lest we forget, 0-100 mph (161kmph) comes up in a shade under six seconds.
Still wondering why it's called the Flux Capacitor? Well, Jonny's blog says "in the '70s every custom and race car had a name. As this is a vehicle from the past destined to travel at unholy speeds, I couldn't stop thinking about Back To The Future and the fictitious electronic widget that powers the DeLorean. It was either that or Batt Outta Hell." Considering the Lambretta GP 'Yellow Ochre' colour it wears, I'm slightly bummed it's not called Pikachu.
Source : CarDekho