It takes 15 minutes to juice up to 80 percent, that's faster than a Tesla Models S and it packs over 500 km range and 600+ hp of power. However, when it comes to Porsche, there has to be a Nürburgring lap timing - the company claims Mission-E's under eight-minute mark for the North Loop!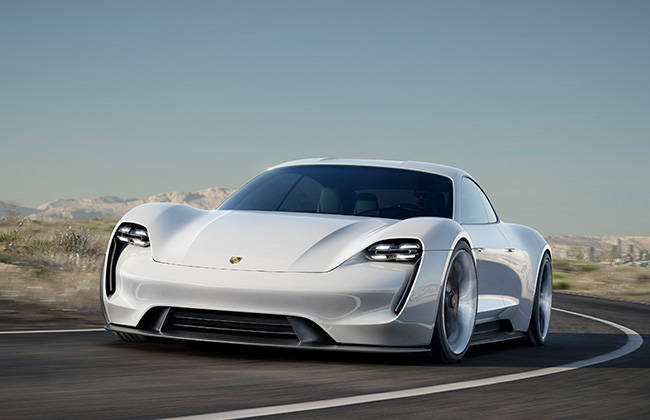 Porsche has revealed a futuristic all-electric concept sedan at the on-going 2015 Frankfurt Motor Show. The assumable Tesla Model S killer hints Porsche's design language from every angle and features latest electric tech from the German automaker. It is Porsche's first all-electric, all-wheel-drive, all-wheel-steering sedan. No production plans have been slated as of now, but Porsche is most likely to put the powertrain in the future Panamera!
Powertrain
It features two Permanently excited Synchronous Motors (PSM) with regenerative braking. The combined output of the motors ranges over 600 hp, propelling the Mission E from 0 to 100 km/h in less than 3.5 seconds and 200 km/h comes in under 12 seconds (Tesla Model S is faster and more powerful!).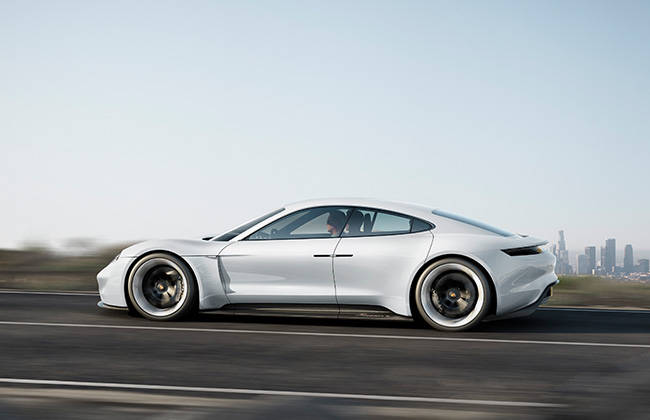 Porsche says that the power density and delivery are uniform, unlike today's electric drivetrains which offer full power even after multiple accelerations at short intervals. Like the Tesla Model S dual motor version, Mission-E is also an all-wheel-drive and features Porsche's Torque Vectoring – which automatically distributes torque to the individual wheels. It also features all-wheel steering giving it precise, sporty steering in the desired direction.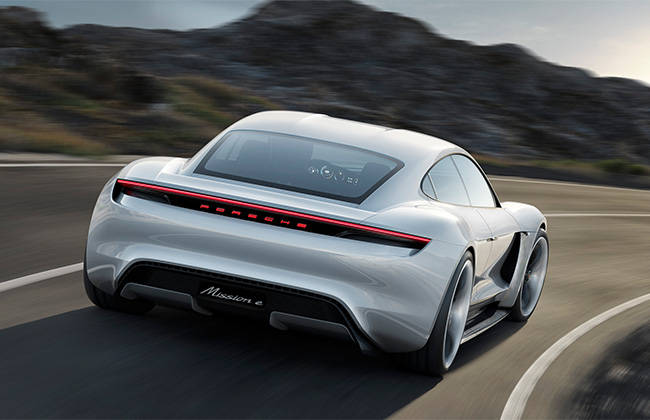 Range and Charging
Porsche says that on a single charge, the Mission E can cover over 500 km and the interesting bit, it can be juiced-up with enough energy for around 400 km more driving range in less than fifteen minutes. It is the world's first electric vehicle which operates on 800 volts, current vehicles run on 400 volts. Adding more on the charging, with "Porsche Turbo Charging" system via the 800-volt port, the battery can be charged to approximately 80 per cent in record-breaking 15 minutes. Apart from the 800 volts charging, it can also be charged through a 400-volt quick-charging station and inductive charging in the garage wirelessly.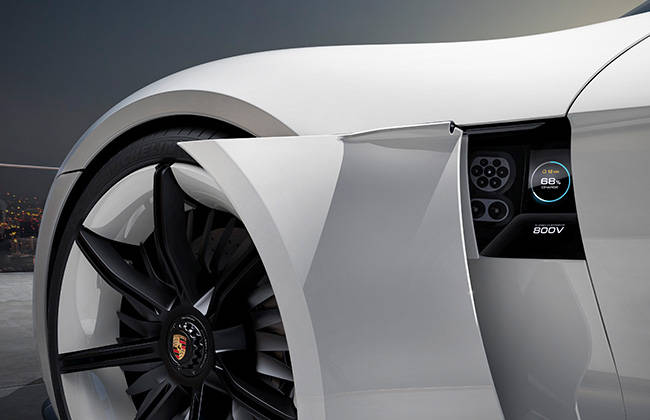 Design and Interiors
The design is unmistakably Porsche, the vehicle is somewhat a blend of various Porsches we have seen till now. It features new Matrix LED headlights in a typical Porsche's four-point light design. Moreover, the lightweight body is made up of a functional mix of aluminium, steel and carbon fibre reinforced polymer. The wheels are made of carbon: the Mission E offers 21-inch wheels in front and 22-inch wheels at the rear.
Speaking of the interiors, there are four individual seats and the dashboard features almost no button, there's an array of OLED screens with the typical Porsche like instrumentation cluster but its all digital.