2015 Jeep Cherokee in this coming week will add some of the most advanced systems such as Active-Drive II 4x4 system, Forward Collision warning system, low speed stop function and high speed crash warning system. The premium SUV will also embrace new shaped integrated dual exhausts along with two special order options. The updates will be introduced latest by this week without any extra cost. The standard Jeep Cherokee 2.0 Longitude starts at £25,495 (standard conversion: Rs 25 lac approx) while the Active-Drive II Limited Trim Automatic is priced at £37,195 (Rs 37 lac).
The Active-Drive II is only made available in Limited Trim Automatic Transmission cars as it offers additional off-road capability for the rugged Cherokee 4x4. The Active-Drive II can be used by the advanced Selec-Terrain dial inside the car. And as we all know, 'Winter is Coming' the Active-Drive II also gets Hill-Descent control, a low range gear for better control and greater torque and a neutral mode.
In terms of safety of the SUV, the automaker has provided optional ADG Safety technology group which is available on Limited automatic versions. As aforementioned, the ADG Safety technology gets updated Forward Collision Warning (FCW) with a low-speed stop function, and high-speed crash warning system. The system not only provides audible and visual warnings but also assists with emergency stopping if the braking is not hard enough.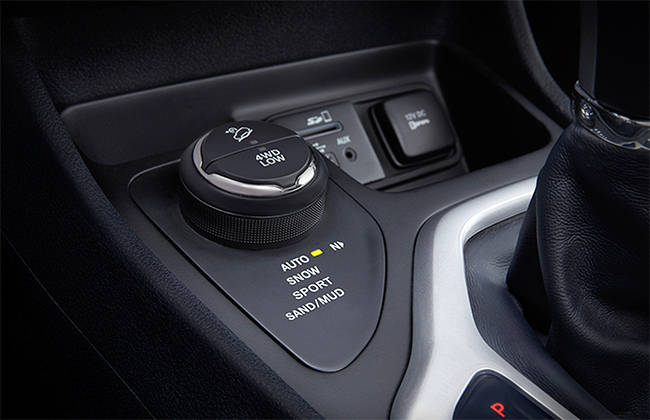 Jeep is also offering two new special order options as 'Cold Weather group' (Limited trim only) and 'Safety and Security group'. The 'Cold Weather group' features heated steering wheel and favourable all-weather floor mats while the 'Safety and Security group' gets Bi-Xenon headlamps, rain sensitive windscreen wipers and headlamp washer.
Damien Dally, Head of brand, Jeep UK said, "Following on from the successful launch into the UK of new Jeep Cherokee, I am delighted with these further enhancements to the car. They are another example of how we continually try to enhance our class-defining models, and I am sure customers will be delighted with the changes we have made."
Source : CarDekho