As Finance Minister Mr. Arun Jaitley announced the 2014 Union Budget taxpaying individuals breathed a slight relief as the exemption limit on the income tax was increased to Rs.2.50 lakh from Rs.2 lakh. While PCs, laptops, soaps, matchboxes, water purifiers and insecticides are going to be cheaper, cigarettes, aerated drinks, pan masala, imported electronic products and x-ray machines are on their way up the price ladder. But how did our auto pundits react? Nothing, as Modi Sarkar's first budget outing didn't actually announce anything for the automobile industry.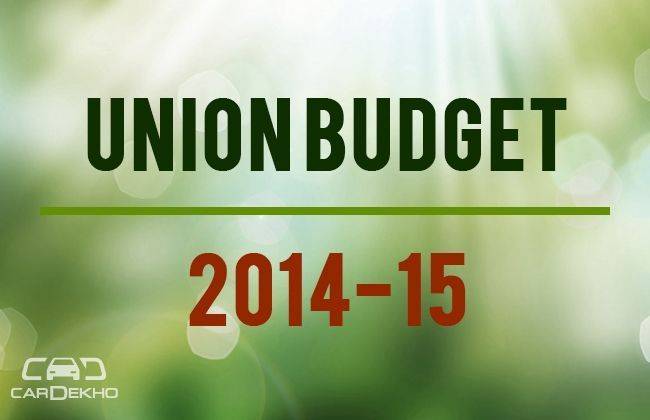 Apart from the earlier announced extension of the excise duty cut till December 31st 2014, there are really not many reasons to be happy about for the automakers. While the introduction of Goods and Service Tax was expected to be announced soon, Mr. Jaitley has told that they are hoping to find a solution for the same by December this year. Many automakers expected more from the 2014 Budget like withdrawal of 1% national calamity contingent duty, acceleration of depreciation rate on motor cars to 25%, interest paid on car loans to be included for tax deduction and more.
Here's what the top brass of auto industry has to say about the budget:
Congratulating the Union Finance Minister, Arun Jaitley, President Automotive Component Manufacturers Association of India, Mr. Harish Lakshman, said, "We are glad that the Hon'ble Finance Minister has unveiled a pragmatic budget with adequate focus on development of the social sector as well as that of the industry and infrastructure. ACMA also welcomes the announcement of the intent for implementation of GST and DTC at an earliest, as well as measures to encourage the Micro, Small and Medium sector (MSMEs) including revision of its definition. MSMEs constitute over 70% of ACMA's membership and scaling-up has been a challenge for the sector".
Dr. Pawan Goenka, Executive Director, Mahindra & Mahindra Ltd., said, "The Finance Minister has delivered a well defined and prudent budget with specific focus on infrastructure, manufacturing and rural schemes. To view it in the macroeconomic perspective, it has laid clear emphasis on supporting investment. Though there were no big bang announcements, the intent of the budget is clear. It is a move towards the right direction and there is an attempt to put a lot of placeholders through the various Rs. 100 crore schemes. In fact, I see this budget as a blueprint to the direction the Government will take over the next nine months."
Dr. Goenka also added, "Specific to the automotive industry, the extension on reduction of excise duty had already been notified. We did expect an announcement on incentives for electric vehicles which did not come through. A firm date for GST implementation would have been welcome."
Voicing similar opinions on the budget, Mr. Vinay Piparsania- Executive Director, Marketing, Sales and Service, Ford India said, "The Union Budget is growth oriented and presents a progressive roadmap to spur investments and infrastructure development. The ongoing excise benefits, along with the Finance Minister's proposal to boost savings through revised tax structure, will surely strengthen consumer sentiment. We hope the Government will continue its pro-reform outlook and will soon introduce a roadmap for the implementation of GST to benefit business environment as well as the auto industry."
Source : CarDekho