One car, One family, 12 countries, 15,000kms and 99 days on freeways. Sounds adventurous as Fiat Chrysler Automobiles supports the expedition of a family from Bangalore to Paris with its powerful sedan Fiat Linea T-Jet. Team L.I.F.E. (Little Indian Family of Explorers), will be travelling from Bangalore to Paris through countries like Nepal, China, Kyrgyzstan, Uzbekistan, Turkmenistan, Iran, Turkey, Greece, Italy, Switzerland (Alps), Spain and France.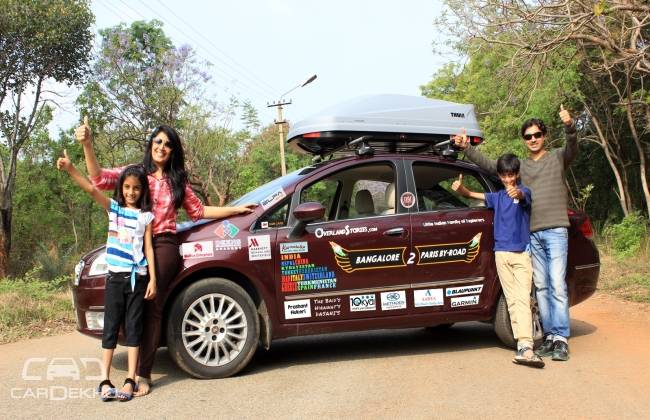 The family of 5 going on this adventurous trip includes Anand Baid, 38 a film-maker, animation professional and educator at Native Puppets; Punita Baid, 36 program manager at Native Puppets; Yash Baid, 12, a grade 6 student and an avid football lover; Dhriti Baid, 8, grade 2 student, aspiring foreign language linguist, dancer and their 5th special family member is the comfortable and sturdy Fiat Linea T- Jet.
The journey would commence from Bangalore covering a drive of over 15,000 Kms and over a span of 99 days. The route goes this way from India > Nepal > China > Kyrgyzstan > Uzbekistan > Turkmenistan > Iran > Turkey > Greece > Italy > Switzerland (Alps) > Spain to France.
Powered by 1368cc 16 valve T-JET petrol engine, Fiat Linea churns a max power of 112bhp with 207 Nm of torque at 2200 rpm.
On this occasion Sanjay Gopal, AVP Marketing at Fiat Chrysler India Operations said, "It is an extraordinary venture that team L.I.F.E is taking up. The road trip from Bangalore to Paris is an extensive region to cover and we are glad Fiat Linea T- Jet is part of their journey. We will extend our support in all the ways possible and we wish them all the very best for this adventurous journey". This one of a kind expedition will be shot into a documentary, covering all bases of planning, with valuable tips for fellow travelers, preparation details of the trip, challenges faced and the memorable times they have together as a family.
Source : CarDekho