With the unveiling of the near-production-ready Golf SportWagen HyMotion concept at the on-going Los Angeles Auto Show, Volkswagen is the next in the line to enter the much-hyped Hydrogen fuel territory. Just like the Toyota Mirai and other fuel cell vehicles, the HyMotion is essentially, an electric car that uses hydrogen-oxygen reaction to generate electricity instead of storing it in batteries.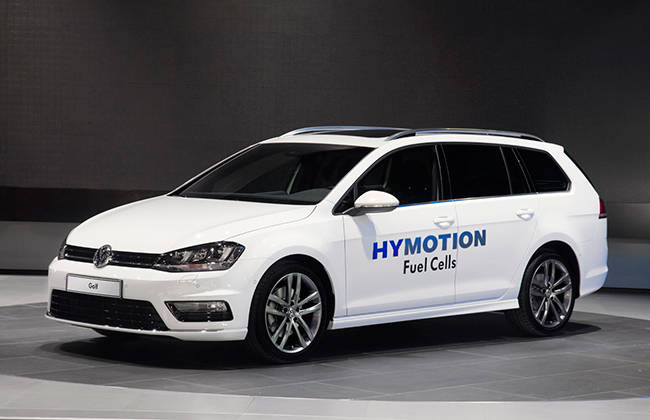 The fuel cell concept shows flexibility of the familiar MQB platform in accommodating alternative power trains, on which this vehicle is built. A tank-full of hydrogen fuel enables the concept to cover about 500 kilometres, which is equivalent to recently-introduced Toyota Mirai. For storage of hydrogen, it has four tanks, out of which two are located under the rear seat, with the other two installed under the cargo floor in an arrangement the automaker says preserves interior space. For that extra bit under certain driving conditions, HyMotion comes equipped with a lithium-ion battery pack that stores energy recovered through regenerative braking, which is also used to help start the fuel cell.
The concept shares its electric motor and other components with the production Volkswagen e-Golf. That engine sends 134 bhp to the front wheels through a single-speed transmission. The company claims its 0-100 kmph sprint in 10 seconds flat.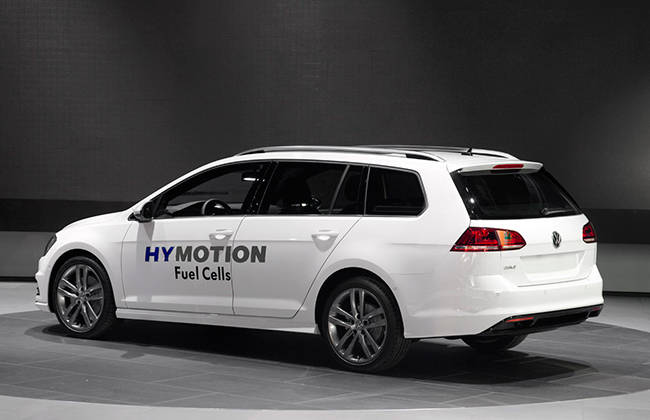 Although Volkswagen haven't mentioned any plans to sell a production version of the Golf SportWagen HyMotion but, if it does, then it will have a fairly comprehensive list of alternative-fuelled vehicles. In addition to the electric e-Golf, the company currently sells the Golf TDI diesel and the GTE plug-in hybrid.
Source : CarDekho