Toyota has joined the race to bring automated driving to the roads and is planning to bring it by mid-decade. The company has shown its advanced automated vehicle technologies at the fourth annual Toyota Advanced Safety Seminar (TASS) in Michigan. The showcased technologies include environment-mapping systems that can track objects on the road both day and night, 3D information displays that transform the ability to provide road information to drivers, and an advanced driving support system that will be available to U.S. customers in the mid-decade. Toyota demonstrated the safety research underway at the Collaborative Safety Research Center and updated the public on development progress of fully autonomous vehicles that can operate at high speeds and in inclement weather.
"Toyota's vision is of a world without traffic fatalities, and these advanced connected and automated vehicle technologies hold the potential to revolutionize automotive safety," said Seigo Kuzumaki, Chief Safety Technology Officer Secretary for Toyota Motor Corporation. "We are committed to bringing advanced active safety systems to market as quickly as possible and will make them accessible to a broad range of drivers."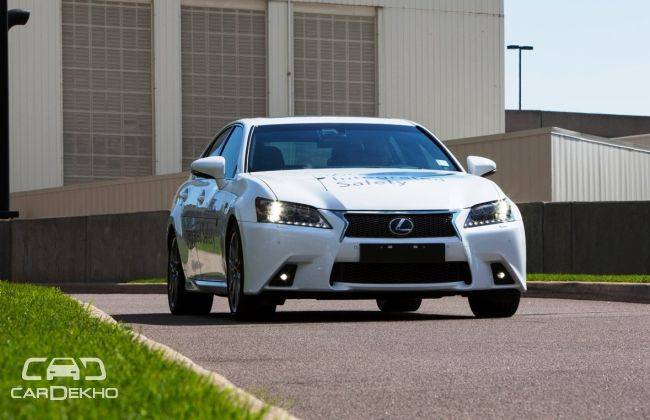 Toyota's Automated Highway Driving Assist (AHDA) system, first unveiled in Japan last year, is designed to team up with the driver behind the wheel to control the car safely and the newest version has been programmed based on actual traffic conditions in the United States and can operate at speeds of up to 70 miles per hour. The AHDA system uses three core technologies Dynamic Radar Cruise Control (DRCC), Lane Trace Control (LTC) and Predictive & Interactive Human Machine Interface (HMI).
Dynamic Radar Cruise Control (DRCC) helps enable drivers to maintain speed and headway more comfortably while also reducing potential risks by helping to maintain a set margin to the preceding vehicle. Lane Trace Control (LTC) assists the driver to easily and safely trace an appropriate path within the lane by using signals from a forward-looking camera and 77GHz millimeter-wave radar. Predictive & Interactive Human Machine Interface (HMI) acts as an integral feature to enable smooth transitions between automated and manual driving.
Source : CarDekho