German car maker Audi's Ingolstadt plant in Germany rolled out the six-millionth Audi with quattro drive. The manufacturer will deliver the jubilee car, an Audi SQ5 in monsoon gray metallic, to a family in the United States. The brand with four rings introduced quattro in the year 1980 and since then, approximately 170 different vehicles including body styles and engine / transmission variants have been equipped with the system. Today, Audi offers the biggest selection of all-wheel drive cars amongst the premium brands, and nearly half of its makes come equipped with the quattro system. The quattro technology is available across all model series while the models Audi Q7, Audi R8, Audi A4 allroad, Audi A6 allroad and all S and RS models are only available with quattro drive.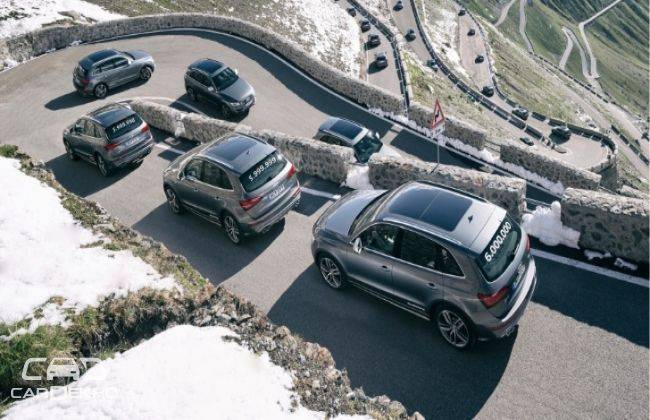 "Dynamism and sportiness, the utmost technical precision and safety – that's what Audi's quattro technology stands for. More than 30 years ago, it was recognized as a pioneering accomplishment; today, it is synonymous with technical progress," states Dr. Hubert Waltl, Board of Management Member for Production at AUDI AG.
Last year, Audi produced a total of 7,10,095 vehicles with quattro drive. At its Ingolstadt and Neckarsulm facilties in Germany, a total of about 2,000 Audi models with all-wheel drive roll off the assembly lines every day. About 44 percent of the Audi customers opted for a quattro model in the previous, which is infact, more than any other premium manufacturer. Q5 SUV is the brand's best-selling model followed by the Audi A4 saloon.
"Our colleagues' expertise in the field of all-wheel drive is impressive; it demonstrates our 'Vorsprung durch Technik' and thus makes an important contribution to the brand's image. Without our qualified and flexible team, this milestone would not have been possible in such a short time," says Peter Mosch, Chairman of Audi's General Works Council.
Source : CarDekho