Mercedes have teased the cabriolet version of their flagship sedan S-Class before its debut at the Frankfurt Motor Show 2015. The marque is parked alongside the classic S-Class Cabriolet, one that has been a benchmark in its days.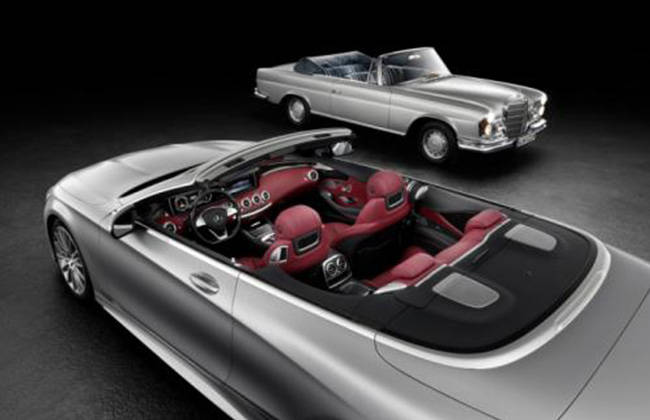 This all new car is based on the S-Class coupe and is pegged by the manufacturer as the "most comfortable convertible of the world". As it is the case with other Mercs, it too will be crafted using leather, wood and quality metal accents on the inside and the exteriors will see the similar S-Class-ish look. Moreover, heated seats, armrests along with a state of art "intelligent" climate control will come handy with it. To tackle the excessive turbulent wind when the convertible top is down, it gets the Aircap automatic wind protection system.
"The new S-Class Cabriolet symbolizes our passion for individual and timelessly exclusive mobility, which we share with our customers" said Mr. Ola Källenius, one of Daimler AG's Board Member. "After 44 years, we can again offer friends of our company an open variant of the S-Class" he added.
The car is expected to be powered by the same motor from the S-Class Coupe, the 4.7-litre V8 that produces 453 bhp of max power and a hefty torque rated at 700Nm, thanks to the twin turbos.
After it's reveal at the IAA Frankfurt 2015, it will be launched in various foreign markets. India though might get it in the beginning of 2016, probably at the Indian Auto Expo.