The Shelby GT costs $39,995 over the price of the Ford Mustang GT
Shelby American has unveiled the 'Shelby' iteration of the Ford Mustang GT, christened as 2015 Shelby GT. What differentiates it from the stock Mustang GT are the regular Shelby add ons - racing stripes, decals and Cobra badging. Apart from this, the vehicle has also used carbon fiber modestly. Shelby is currently accepting bookings for the vehicles while first batch of deliveries are slated for the second quarter of 2015.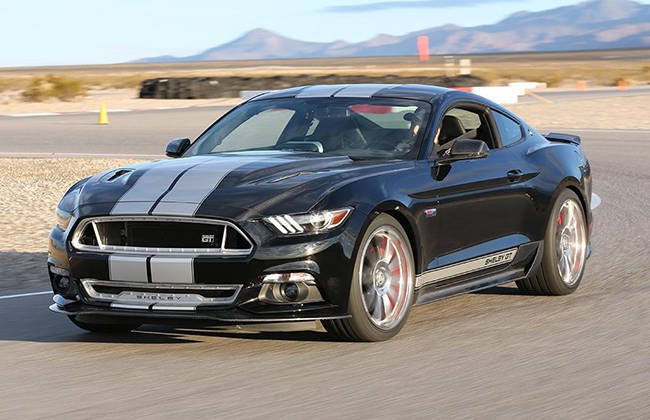 Stylistic Upgrades?
The Shelby GT gets carbon fiber body kits - front splitter, side skirts, rear diffuser along with carbon fiber hood, carbon fiber mirror caps and a carbon fiber rear spoiler. Moreover, it also sports new grille, racing stripes and 'Shelby Cobra' badgings, to make it look apart!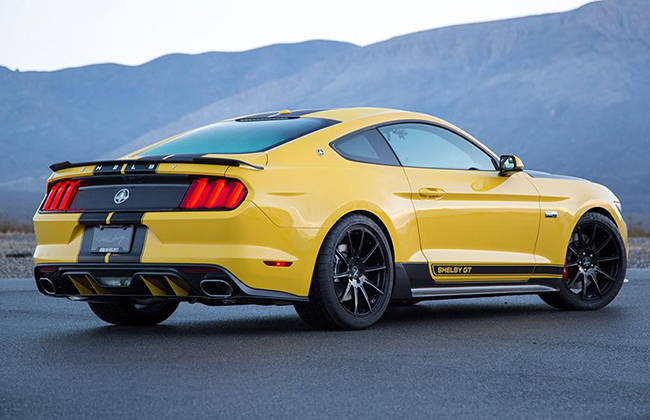 Engine and upgrades?
The 2015 Shelby GT is powered by the same Ford's 5.0-liter V8 but it is breathing from a Ford Racing supercharger and sports exhaust system. Courtesy to the upgrades, the motor extracts more than 627 bhp. Don't be disheartened with the 627 bhp, one can also opt for the performance package which increases the output to excess of 700 bhp. Along with the engine upgrades, it also gets Ford Racing short throw shifter (for manual transmission Ford Mustang GTs), Ford Racing handling package (upgraded - shocks, springs and sway bars) and Wilwood front brakes. It rides on 20-inch alloy wheels with Michelin tires.