India's largest automaker is all set to enter in the compact crossover segment with the S Cross, reportedly next month, let's see how MS fairs this time with established players!
Maruti Suzuki will soon reveal the production spec, S Cross for the first time on TV on the upcoming IIFA awards (already showcased at the live event) and the vehicle is reportedly coming in the first week of next month. The prices are expected to be in the vicinity of Renault Duster. Let us see, 5 Things You Must Know About Maruti's debutant crossover in the country - the S Cross.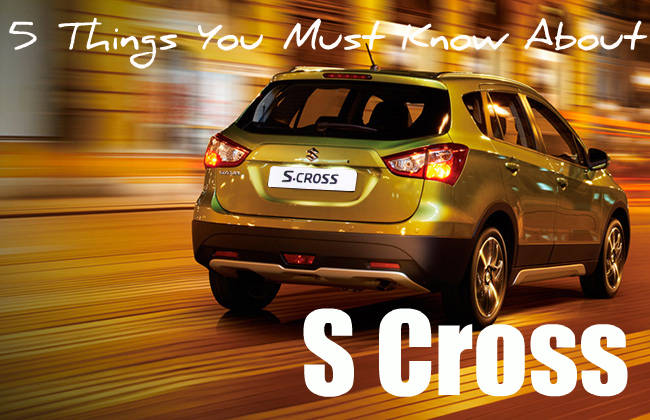 Maruti-Suzuki's First Crossover, Looks Humongous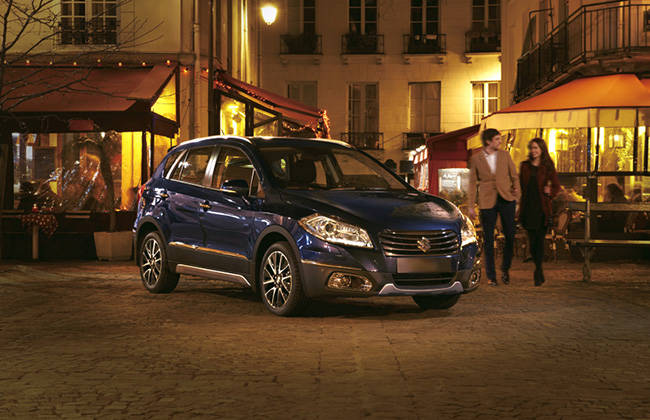 It is Maruti's first crossover and the looks somewhat justify it, the vehicle looks bigger and there's all-around body cladding too. It will most probably ride on 16-inch radials. Speaking of the ground clearance, in Europe, Suzuki offers 165 mm of GC but Maruti could slightly raise it.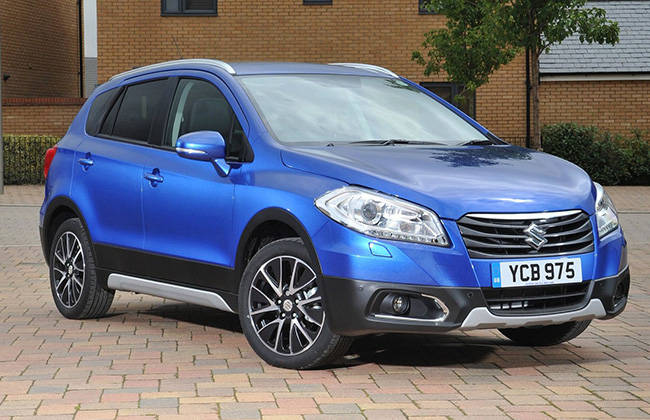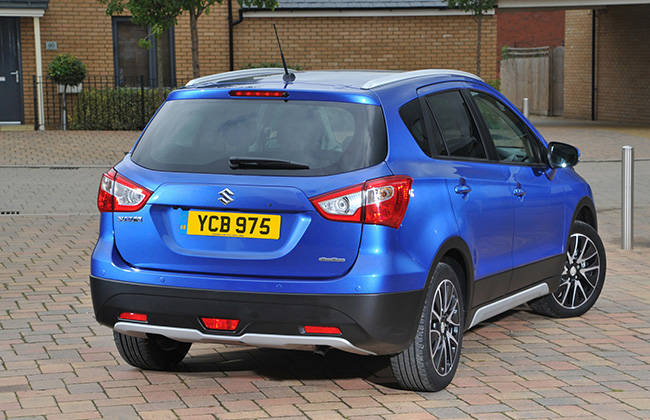 In terms of looks, there will be twin-slat chrome grille, the headlights offer projectors (they are expected to remain standard across the range, just like the Ciaz). It also offers daytime running LEDs, this is also first for any Maruti till date. Moreover, the taillight is a wrap-around one with no LEDs. In a nutshell, the Maruti Suzuki S Cross looks decent and bulbous.
Two Diesel Engines and One Petrol
1.6-liter and 1.3-liter DDiS diesel and 1.4-liter VVT K-Series petrol
To keep its pricing competitive, Maruti Suzuki will offer S Cross with two diesel engine options along with a sole petrol. As the 1.6-liter DDiS badged car has already been spied in the country, so we are highly likely to get it! Moreover, Suzuki offers it in the UK, it is a Fiat sourced 1.6-liter MultiJet motor. The engine pumps out 120 PS @ 3,750 rpm and a max torque of 320 @ 1,750 rpm (that's on a higher side compared to the segment!). Apart from it, there will be Fiat's 1.3-liter MultiJet dubbed as DDiS200 (same as in the Ciaz), mustering 90 PS @ 4000 rpm and 200 Nm of peak torque at 1750 rpm. Petrol is also borrowed from the Ciaz, the 1.4-liter motor pumps out 95 PS at 6000 rpm and 130 Nm @ 4000 rpm of max torque.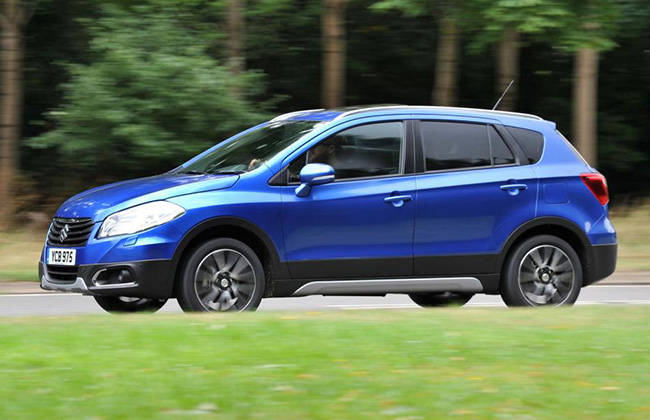 6-speed manual Transmission and Suzuki's AllGrip AWD
Now, like in the UK, this 1.6-liter DDiS diesel is likely to be mated to a six-speed manual transmission in the country. This will make it Maruti-Suzuki's only 6-speed transmission vehicle in India since Kizashi is no longer on sale. Moreover, the company might offer the AWD drive option in the S Cross, since they offer it in Europe and Russia with the 1.6-liter DDiS which will be offered in the country. Its arch rival Duster also offers the same in India, so there's a possibility.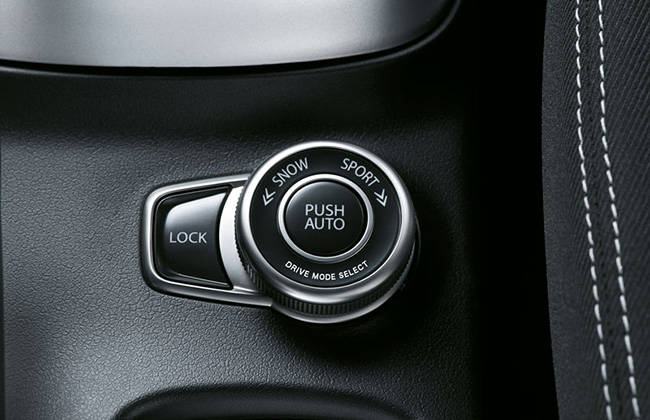 The 1.3-liter DDiS diesel will be mated to a 5-Speed manual, just like the Ciaz and same will go with the petrol too. Moreover, the company could offer an automatic with petrol, they offer CVT in the UK but S Cross offers 1.6-liter petrol with this CVT gearbox there and this 1.6-liter petrol is not coming to India.
Also See: Hyundai Creta - 5 Things You Must Know About SmartPlay 7-inch Touchscreen Infotainment System and All-Black Interiors
The new S Cross will be offered with a Suzuki's 7-inch touchscreen SmartPlay infotainment system, that made it into India with the Ciaz. The voice controlled system offers plenty of goodies, there's a smartphone integration for your entire contact list, dial pads and other things along with Bluetooth, hands-free calling and audio streaming. There's a built-in GPS with navigation (pre-loaded maps on SD card). And it also doubles up as reverse parking camera screen.
Speaking of the interiors, seeing the spied image, the 2014 Indian Auto Expo model and the European one, S Cross will have all-black interiors with silver accents. A lot of parts will be picked from the regular Suzuki bin, like the steering wheel, power window buttons and others. Moreover, the vehicle will have leather upholstery and automatic climate control with rear AC vents.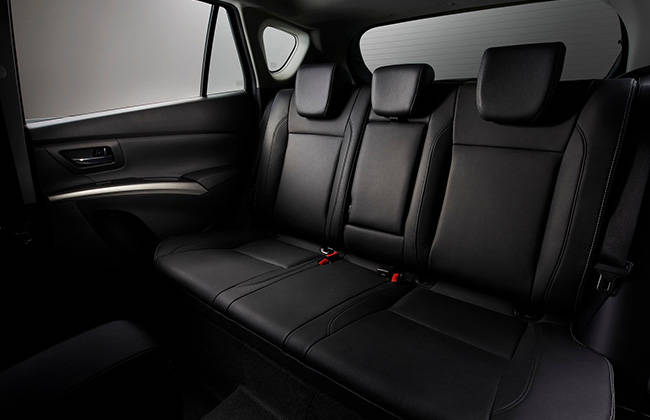 S Cross is good on space, not a Sub-4m vehicle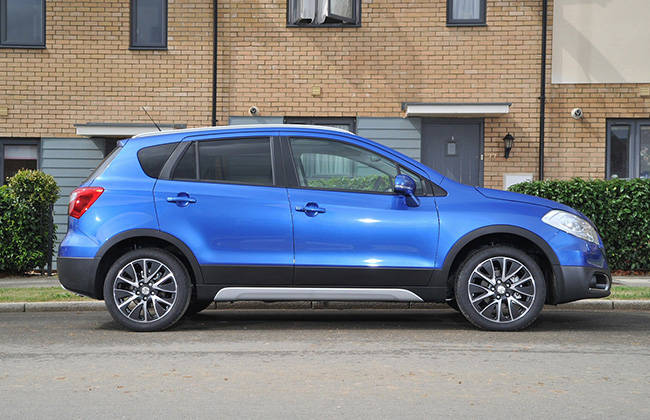 The S Cross measures, 4300 mm in length, similar to that of the Duster. The overall width is 1,765 mm and height of 1,575 mm. The wheelbase is also decent at 2,600 mm and it can swallow more than your weekend getaway luggage with 430-liters of boot space with second-row up-right.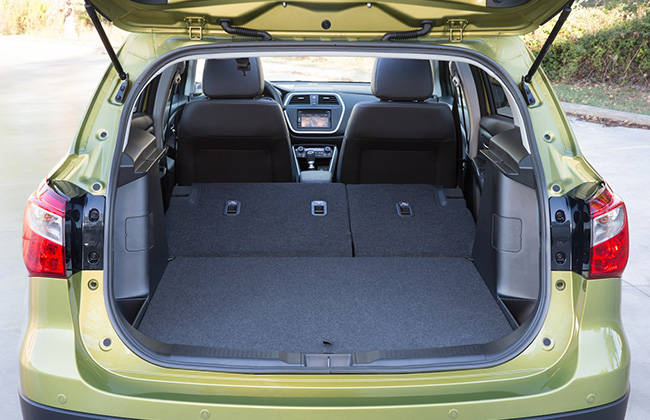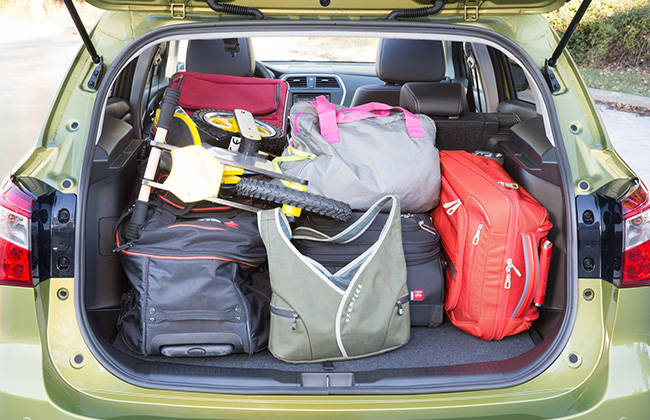 Source : Maruti Suzuki S-Cross - 5 Things You Must Know About