The official name of the U301 is TUV3OO and will be powered by an 'advanced and hi-tech' mHawK engine
Mahindra has officially revealed their all new sub-4m compact SUV - TUV3OO (pronounced as TUV 3 double 'Oh', T stands for tough), it was internally codenamed project U301. The launch is slated around mid-September and deliveries will start soon after it.
Speaking of the design, the company says the vehicle has been designed in-house by Mahindra with inputs from Italian design firm - Pininfarina! According to M&M, the TUV3OO's design has been inspired from a battle tank and carries Mahindra's DNA. Looking at the official sketches released by the automaker, the compact SUV features straight lines and boxy stance typical of an SUV with a rear mounted spare wheel.
Check-out: We spied the U301 aka TUV3OO earlier this month
Speaking at the name reveal, Dr. Pawan Goenka, Executive Director, M&M Ltd. said,"Today, Mahindra has the strongest equity in the SUV segment in India. In our ongoing automotive journey, we identified a need for a tough, bold and masculine SUV and our customer clinics have confirmed that the TUV300 delivers on these parameters. I am confident that the Mahindra TUV300 will follow in the footsteps of its illustrious predecessors to evolve into an iconic brand for Mahindra".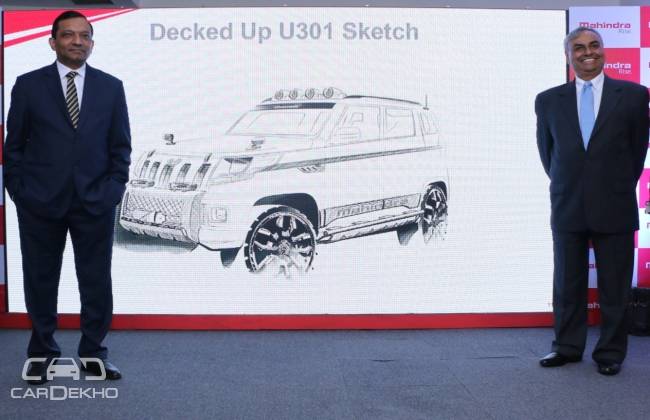 Pravin Shah, President & Chief Executive, (Automotive) M&M Ltd. said, "The TUV300 is the very epitome of the Mahindra RISE philosophy as its development challenged the limits and conventional thinking, and involved the innovative use of resources. The vehicle will be manufactured at M&M's future-ready manufacturing facility at MVML, Chakan in Maharashtra, where again innovative engineering, state-of-the-art technologies and manufacturing excellence are simply par excellence".
Furthermore, the research and development of the TUV3OO has been carried out in Mahindra Research Valley (MRV) in Chennai. The vehicle will be manufactured in company's Chakan plant in Pune. Mahindra also promises that it is a global product and there will be an LHD version also, which will be exported to other countries from India.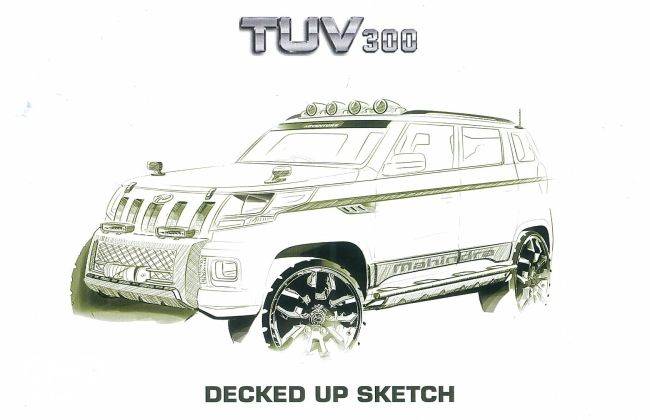 The TUV3OO will be powered by a new mHAWK 80 diesel engine, details of the engine were not revealed by the automaker. Talking about the platform, the TUV3OO will debut a new platform which is most likely the shortened version of the Scorpio's new hydroformed chassis. When Scorpio was revealed, Mahindra said that this platform will also be used in future vehicles. Furthermore, this TUV3OO's platform is 4WD ready but at the time of launch, which is next month, it will not feature 4WD.
Also read, Mahindra Thar Launched at 8.03 lac
Source : Mahindra Names U301 compact SUV - TUV3OO, Launching Next Month!