Jaguar will soon be debuting its special F-Type R AWD Bloodhound SSC Rapid Response Vehicle (RRV) at the soon to be held Coventry Motofest. It has a 5.0 litre supercharged V8 that produces a maximum power output of 542bhp. The vehicle has been built to support the Bloodhound world land speed record attempt. This special edition is a product out of Jaguar Land Rover's Special Vehicle Operations and comes in Bloodhound SSC colour livery.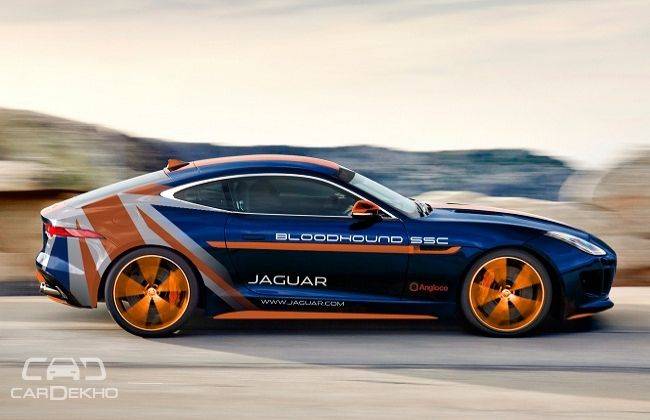 Jaguar is providing engines, engineering expertise and also a number of support vehicles for the world record attempt, as a technical partner. A successful test run for communications has already been made for the F-TYPE R AWD organised back in the November of last year. That same radio equipment has been fitted in the F-Type AWD which performs duties in the rocket powered Bloodhound SSC. The test run was done by running the F-TYPE head-to-head at top speed with a similarly equipped jet flown at 500 knots and just 20 feet above the ground. The combined closing of nearly 1,126kmph proved the successful working of the communication equipment allowing a link between the ground crew and Andy Green in rocket Bloodhound SSC.
Jaguar will also be displaying a 1956 D-type Long Nose and the 1966 XJ13. A 1974 Group 44 E-type, a 1976 Broadspeed XJ12 Coupé and the 1988 Le Mans-winning XJR-9 will also see action over the weekend, while a 1938 SS 100 will be on static display to visitors.
Source : F Type 2015 - Jaguar to unveil a special Bloodhound F-Type