It's been just over 15 months since Fiat started to operate independently in India and the company is on the right track in the way it has been building its brand and launching products. With the new Linea and recently launched Punto Evo making the right vibes in the market, will Fiat get the recognition it truly deserves? Mr. Nagesh Basavanhalli, President and MD - Fiat Chrysler India Operations thinks so.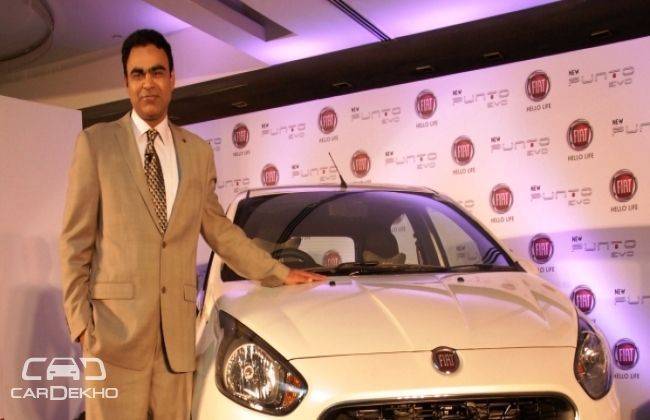 How has Fiat fared as an independent brand since the split?
It's been over 15 months since Fiat became independent and we are making all the right moves. We have expanded our network to 116 dealerships in 93 cities across 23 states. In Tamil Nadu we have 11 dealerships including 3 in Chennai. 116 dealerships is a good number to be in now and we are looking at more regions to expand.
We are working to improve customer's experience with Fiat with campaigns like AMICO which means friend in Italy. Each Fiat customer will be assigned an AMICO, who will act as a Relationship Manager for any queries or problems with the car.
What about the product line-up? How have you planned that up?
We will have four products in our portfolio by the end of this year. The new Linea is already launched. Now, the new Punto Evo has been launched and the new Avventura will be launched in the next 60 days. Fiat will also launch the 500 Abarth by December this year.
We have covered all the bases with our products the C-low segment with the Linea Classic, C-high with the new Linea, B+ with the Punto Evo and the utility segment with the Avventura. The localization level of these products is around 85%.
With the Punto Evo, we are bringing new features to the segment such as Ambient lighting, 195 mm ground clearance etc. The design of the new Punto Evo is very unique to India. The new Linea has been received well and started strong upon its launch. Unlike other competitors, we offered no discounts and the export is also not too big.
But you don't have any products in the small car segment. Any ideas to enter A-segment?
Right now, we have no plans to enter the A-segment. We are happy with our current lineup.
Fiat has been unable to succeed so far despite several collaborations. How do you think it will change now?
Since becoming independent, we have gone from 175 dealerships to zero and then to 116 now with plans to expand more. We are now just setting the stage with the products that offer European engineering, safety and design. We are also concentrating on what people want. So, the new Punto Evo is now 5% more fuel efficient than the old car.
We are working on our ground level contact with the customer. Complaints are going down. The number of products has gone up. When people come to our showroom now, they can see it has changed. They can experience our new products and new approach to services. That is how they will realize the difference from before. That is what we are now working to achieve.
Why are there so many problems with launching the Jeep brand in India?
Unfortunately, we have not been able to launch the Jeep brand as early as we wanted. Jeep launch is in our 5-year plan for India but it will not happen in 2014. We are studying the market conditions and will be making announcements soon.
How do you think 500 Abarth will be received, considering the 500 itself didn't do well?
When Fiat brought the 500 to India, it was through the CBU route. And the luxury cars segment was just opening up. The market has matured now and luxury cars segment is growing. We believe people would now want to buy the 500 Abarth.
We will again bring the 500 Abarth as a CBU only. Fiat is also considering localizing the Abarth brand over time.
Future plans. Products with AMT?
We have no plans to launch any products with AMT now. Though we have the technology, we are looking at the market and will decide accordingly. We will also launch 12 products under 3 brands by 2018. That is our 5-year plan for now.
Source : CarDekho