Audi started selling cars in UK in 1965 and sold just 32 cars in the first year. Fifty years after, Audi UK has achieved a milestone by selling their 2 millionth car, an Audi A3 Sportback e-tron. The first four-ringed car sold in UK was a 'compact executive' model codenamed the F103 and publicly known simply as 'The Audi'. Now in 2015, there are a total of 51 model types ranging from subcompact city cars to ten-cylinder supercars.
Director of Audi UK André Konsbruck said, "It's hugely gratifying for the team in the UK to reach this significant milestone in the brand's history in the UK, but it's the contributory figures lying behind the headline number which really speak volumes about our recent past and our future aspirations. Domestically the brand has risen from humble beginnings in the Sixties to become the leader in the premium segment, and the last two decades have delivered virtually constant, and in all but three years record-breaking, growth. These are really robust foundations on which we plan to build consistently and substantially with the help of an ever expanding portfolio of models."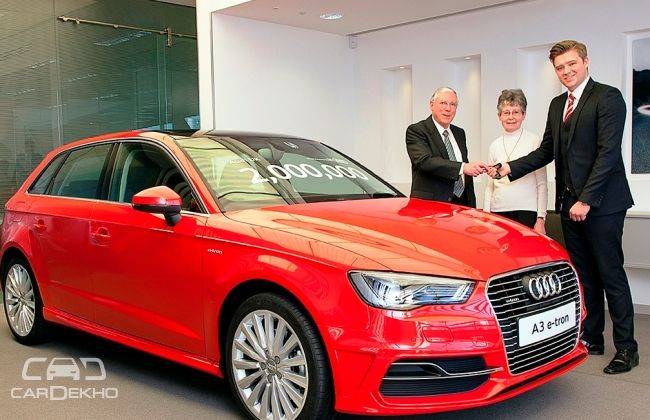 Globally, Audi AG is getting closer to selling two million cars in a single year with around 1,741,000 cars delivered to customers worldwide in 2014. In UK, Audi has grown from a base of just 14,344 cars in 1991 to over 100,000 annual sales for the first time in 2007 and in 2014 posted a total of 158,987 deliveries.
The milestone car, Audi A3 Sportback e-tron sports a conventional 1.4-litre TFSI petrol engine with an electric motor to deliver the potential for up to 176mpg with CO2 emissions of just 37g/km. The car was crowned World Car of the Year in 2014 and can run exclusively on electric power for up to 31 miles at speeds of up to 80mph. When the two power sources are combined, the car can travel up to 584 miles. The battery powering the electric motor can be charged by plugging the A3 Sportback e-tron into a home wallbox for as little as two hours and fifteen minutes.
Source : CarDekho