Mercedes-Benz reached another milestone with the production of 500,000th passenger car in China. The milestone model, an all-new long-wheelbase C-Class model, rolled off the production lines at Daimler's Sino-German production joint-venture Beijing Benz Automotive Co., Ltd. (BBAC). And around half of 500,000 vehicles have been manufactured just within the last two years, showing the rate at which the brand and the car market's growth in China.
"Continuous investment in localization is one of our key growth drivers for Mercedes-Benz's future in China, and it is clear proof of our confidence in and dedication to this strategically important market," says Hubertus Troska, Member of the Board of Management of Daimler AG responsible for Greater China. "Going forward, we are determined to pick up the pace even more as we just signed a 1 billion Euro agreement with our partner for the localization of further compact car models. BBAC is undoubtedly on its path to become the largest Mercedes-Benz passenger car plant worldwide."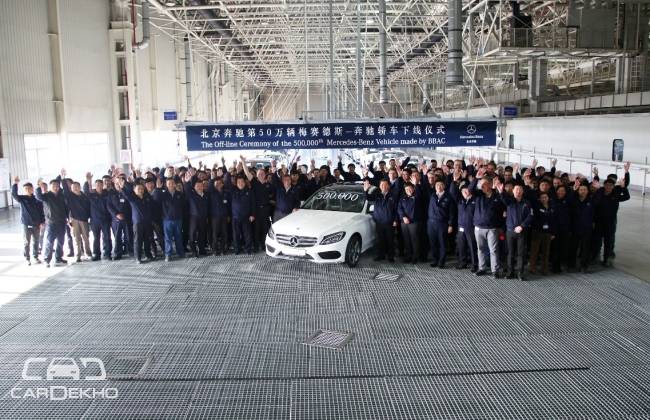 BBAC, a joint venture between Daimler and its Chinese partner BAIC Motor, has been in operation producing cars since 2006 and engine production since 2013. Over 400 million euros have been invested in this engine plant, which is first ever Mercedes-Benz passenger car engine plant outside of Germany. The plant has produced around 120,000 vehicles accounting for approximately one-half of Mercedes-Benz's total sales in China and the number is expected to grow beyond 200,000 units at the end of next year. The top-notch facility produces 4- and 6-cylinder engines for locally produced passenger cars and vans built by Daimler's local joint venture Fujian Benz Automotive Co., Ltd. (FBAC).
"Built in China, for China – this philosophy has been the vital driving factor of our success in the past, and will continue to be so in the future. Reaching the half million mark is just our latest achievement, and we certainly won't stop there," explains Frank Deiss, President and CEO of BBAC. "Obviously we have followed, as part of Mercedes-Benz's global production network, our worldwide acknowledged standards and processes for each and every one of these units, to deliver our customers the best products."
Source : CarDekho